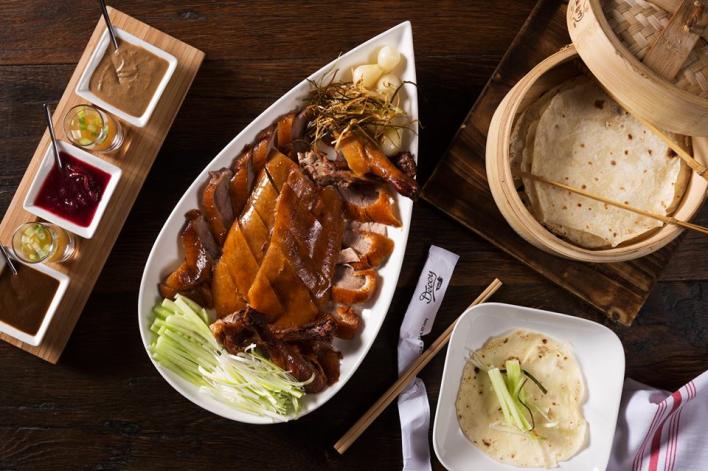 Succulent Peking Duck Dinner in West Village: Decoy...
Succulent Peking Duck Dinner in West Village: Decoy
Situated right underneath RedFarm, Decoy is a small restaurant that specializes in Chinese cuisine and especially Peking duck dinners. The dimly-lit interior include lots of wooden elements throughout the long narrow space with the bar on one side and a long giant communal table with 20 plus seatings in the middle.
The restaurant is the brainchild of owner Ed Schoenfeld and chef Joe Ng, both connoisseurs of Chinese cuisine and especially when it comes to Peking duck. The grand "Peking duck dinners" are roasted-to-order and prior to putting it under the heat, the ducks are initially pumped full of air to balloon out the skin, separating the skin from the meat so as to achieve maximum crispness without drying out the meat. In addition to the succulent duck as the main event, the "duck dinner" also include choices of appetizers, sides and mains from the a-la-carte menu, many of which incorporate the "duck" theme by including duck-based ingredients such as the signature drink, "Sitting Down for Dinner", a shot of duck consommé topped with foamed duck fat and duck kimchee flatbread sandwich. Other notable sides includes the oxtail dumpling (large puffy skin with juicy oxtails inside) and the always buttery wagyu short-ribs.
Due to the on-demand nature of the Peking duck in NYC, reservation is a must and seatings occur only at two fixed times, 6:00 PM and 8:30 PM.
The cost of the Peking duck dinner is $65 per person (for 2) which includes 2 small plates, 1 whole Peking Duck, 1 veggie fried rice or a side dish. Other dishes can be had at $15 for appetizers and main courses from $28 to $46.
photo credit: Decoy