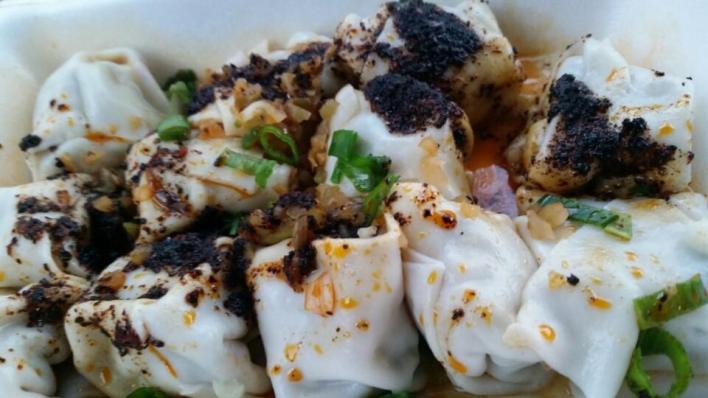 Best Dumplings in NYC - Flushing Chinatown's White Bear Dumplings...
Best Dumplings in NYC - Flushing Chinatown's White Bear Dumplings
Located in the heart of Flushing Chinatown, just 1 block away from Nan Xiang Dumpling House, White Bear has become notoriously famous for their delicious house-made Shang Dong style dumplings.
Eat-in, take-out or buy a bag of 25 or 50 frozen dumplings to cook up anytime at home. The feathery skins are stark white and delicately filled with tender savory minced pork meat and fragrant chive morsels.
The most popular dish on the menu? Wontons in hot oil (12 for $4.50) – delicate, floppy skins wrapped around impossibly juicy, meaty pork and veggie wonders in hot oil (not spicy) with crunchy ground chiles, pickled ginger, mustard greens and scallions casually tossed in. Go with Spicy Wontons if you prefer to up a couple of notches of kicks.
Dan Dan Noodles ($4.50) is another favorite on the menu. The noodles are springy, chewy to the verge of crisp blend in braised chili spiced pork bits with cucumbers and bean sprouts to quell the heat.
Not much to say about the décor. A compact no-frills restaurant, a white counter and 4 tables seating around 8 people; but decor is not the attraction, it's the food which is plentiful and pretty cheaply priced (12 succulent wontons for 5 bucks).
Tips for eating at home
Boil until they float - mix up a delicious dumpling sauce with soy sauce, sesame oil and few drops balsamic vinegar. Optional: thinly sliced ginger strips, sesame seeds.