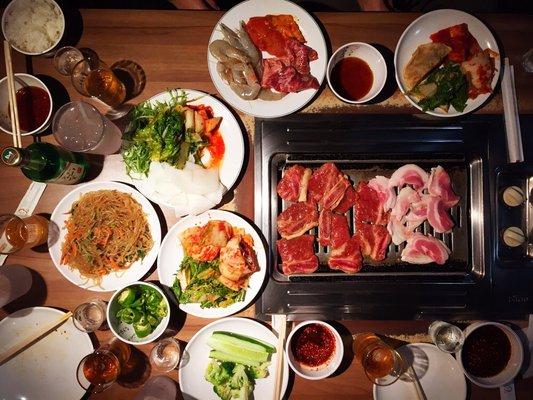 Picnic Garden - All You Can Eat Korean BBQ in Flushing...
Deliciously Cheap Korean BBQ in NYC
Picnic Garden - All You Can Eat Korean BBQ in Flushing
Located in Flushing, the Picnic Garden is an all you can eat Korean BBQ fest with wide variety of Korean delicacies in buffet format – stuffing yourself silly from classics such as bulgogi, pork belly, kalbi (short-rib), chicken parts ( hearts and other innards )... Pretty much anything you can dangle on a grill, it's there.
style="display:block"
data-ad-client="ca-pub-2430780616696920"
data-ad-slot="7329696203"
data-ad-format="auto">
The kimchi rubbed chicken is a must try and when wrapped in lettuce with pickled daikon, scallions and dipping sauce, it's complex. While you're at it, go a little exotic and venture into marinated lamb or even the squid territory to experiment with new tastes.
Aside from the raw protein selections, a good variety of cooked side dishes including japchae (glass noodles), fried mandoo (dumplings) and seafood pancake (pajeon) – and the usual banchan dishes are also infinitely available.
Given the tendency of Korean BBQ to be higher up in the cost-ladder, the all you can eat format gives plenty of chance to sample a variety and indulge in your favorites.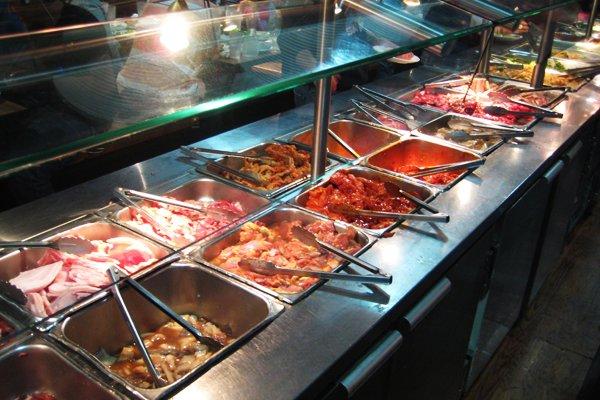 Price per head for dinner on weekdays is $30 and $32 on weekends and holidays, so bring your appetite and come when you're hungry.
For the best deal, arrive for lunch and it's $17 on weekdays and $25 on weekends.
style="display:block"
data-ad-client="ca-pub-2430780616696920"
data-ad-slot="7256827400"
data-ad-format="auto">
photo credit: Yelp