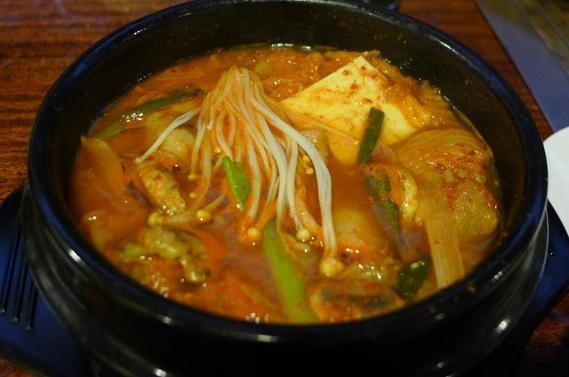 Koreatown-Style Cheap Lunch in the East Village ...
Koreatown-Style Cheap Lunch in the East Village
Hanjoo is a branch of a Flushing Korean restaurant that has recently set down in the East Village right on the first block of St. Marks amid the colored wigs, bars, punk-clothing boutiques, and Japanese restaurants. The nighttime prices are on par with most Korean restaurants in town, but the lunchtime special is a paragon of relatively inexpensive eats...

...lunch special runs from around $7 to $10, and includes miso soup, rice, and a bubbling pot of something (generally a fiery tofu, seafood, or pork stew served in a crock), serving of barbecued meat like bulgogi, or bibimbap, the latter an over-rice over-organized farrago of vegetables, omelet strips, and meat arranged across the top of the rice bowl. Mix it vigorously before eating and pour on the red, ketchup-like sauce.

The other dish a friend and I tried was a kimchee stew ($7.95) with pork and plenty of soft tofu. We tried both stews, and their accoutrements made for perfect autumn eating. The place is way spacious, too, with several successive chambers. You're sure to find a comfy spot and leave with stomach bulging.