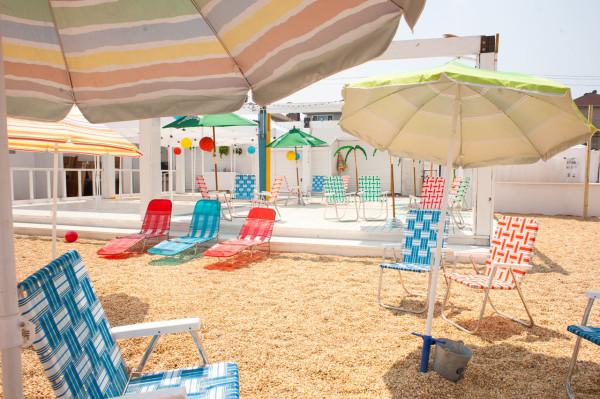 Beach Motel - Playland Motel at Rockaway ...
Beach Motel - Playland Motel at Rockaway
Robin Scott and Jamie Wiseman are not new to the New York scene. They are, however, new to the beach. Scott, originally from London, and Wiseman, an Oklahoma transplant, are the savvy business minds behind the development of the Brooklyn club Output, and they are bringing their knowhow to the shore with Playland Motel on Rockaway Beach.
"We believe that New Yorkers need the opportunity to get to the beach and be able to be able to enjoy fresh, quality food and great drinks conveniently an hour away, without having to go through the commitment and stress of the whole Montauk and Hamptons scene," says Scott. Just a stone's throw away from the depths of the concrete jungle, the Playland Motel features twelve artist-designed rooms along with two restaurants, deck bar, boutique retail store, house DJ, and a clothing line called Weeeah.
Though the concept of a beachy, boozy, beat-fueled hangout may sound reminiscent of existing hotels, including Montauk's always-packed Surf Lodge, Scott stresses that the motel is instead inspired by what Playland was from the early-nineteenth century through the Sixties: the duo wanted to bring back the "vibrant energy" of the original saloons, bungalows, and amusement park that lined the sand.
"We revitalized what was kind of an old man's bar with its slum housing upstairs," says Scott. "The way we went about the rooms—with different artists coming in with their own creative energy—made it an outlet for their creative juice." Both local and international artists (including Pat Conlon, Ben Pundole, John Rawlins, and Athena Calderone) were tasked with designing each room with their own theme. According to the motel's website, the rooms range from a "hot-and-heavy girlhood frolic with glitter sunburns, ponies, and wet swimsuits" to "iconic, pop detailing with a contemporary beach feel." Scott and Wiseman expect the clientele to be just as varied: "We don't like to go to the Hamptons and just hang out with rich people," explains Scott, adding that he expects "locals, a sprinkling of hipsters, Europeans, South Americans," and others to frequent the motel.
At the diner-like restaurant, Brooklynites will recognize cuisine from Williamsburg's El Almacen and Rosarito Fish Shack thanks to Argentinean restaurateurs and cofounders Diego Galarza and Eduardo Suarez. The motel will also feature a pizzeria, as well as authentic Italian ice cream.
With Scott and Wiseman's club background, it's no wonder that music will also play a big role at their new space. "Music is an important part of life," explains Scott. Liv Spencer, Playland's appointed music director, will bring live music to the motel, as well as "curate a beachy sound," according to Scott. Breezy surf rock and chilled-out EDM alike will ooze from a serious sound system designed by acclaimed club sound designer Jim Toth (who has designed systems for Santos Party House, Mudd Club, and Danceteria). The motel's music will also have a "strong presence" on Soundcloud, so even if you can't get to the Rockaways this summer, you can groove to the summer sounds. But if you do live in the New York area, it's worth remembering the words of Queens locals the Ramones, who once reminded us, "It's not hard, not far to reach. We can hitch a ride to Rockaway Beach." This summer, the trip is more enticing than ever.