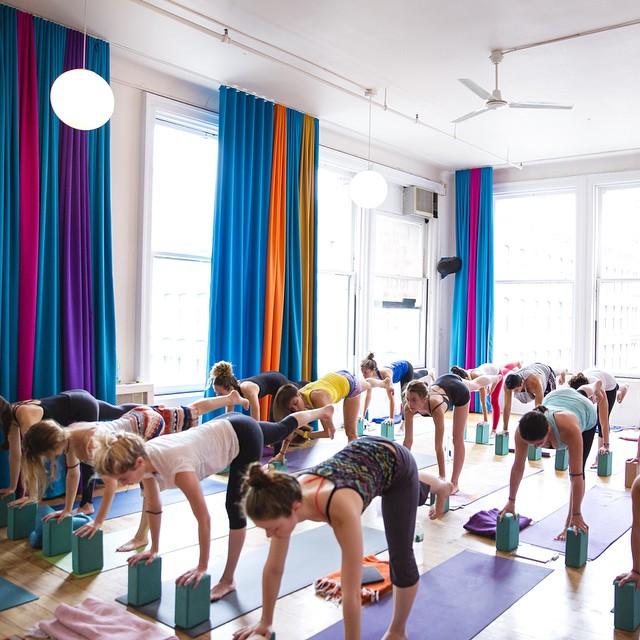 Yoga Class: Laughing Lotus Yoga Center NYC...
Yoga Class: Laughing Lotus Yoga Center NYC
Laughing Lotus Yoga is a 4000 square foot yogic temple in the heart of Chelsea, featuring various asana rooms offering nearly 100 classes a week.
Opened in 2000, Laughing Lotus offers seasoned and new yogis spacious, bright colored studios to practice with some of New York's most knowledgeable yogis.
First time members can trial with the $39 "new to Lotus" offer featuring unlimited access for one month. After that it's monthly unlimited for $139 which is ideal for yogis who practice more than twice a week.
New yogis are encouraged to take the absolute beginner 3-week series, which creates a firm foundation from which one can graduate to the next levels. Lotus Flow 1 is the most basic class which builds the foundation for your yoga practice with an emphasis on breathing and healthy alignment in the poses. Intermediate classes introduces more challenging poses and moves at a faster tempo, while building stamina and strength while developing grace and flexibility. For a bit a flavor in your yoga practice, take the Lotus Rocks Rock-n-ROLL with Soul inspired Level 2 class or a soulful yoga style Lotus Flow class.
To detoxify from the week's stress, try the restorative Lounging Lotus class which moves you through a series of poses using the support of props designed to melt the body and mind into a state of deep relaxation.
photo credit: Laughing Lotus Yoga