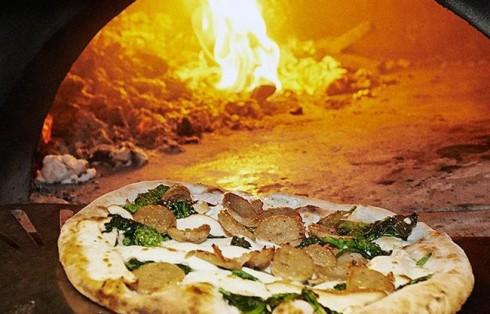 Neapolitan Wood Fired Pizza in Chelsea | Prova...
Neapolitan Wood Fired Pizza in Chelsea | Prova
Prova is another incarnation of pizza from Donatella Arpaia and partners from Sushi Nakazawa's Maurizio de Rosa and Ribalta chef Pasquale Cozzolino. Baking up authentic Neapolitan-style wood fired pizzas in two incarnations of "traditional" and the "newly-imagined".
Italian Wood Fired Pizza Oven
The restaurant exists for one reason and it's the wood-burning pizza oven tailor-made by famed Italian craftsman Stefano Ferrara. Handcrafted, it is built up from scratch, brick by brick and renewed with shiny red tiles on the exterior.
The menu features 14 blistery pie variations in total, half "classico" such as the Margherita and DOP ( Cherry 
Tomatoes, Mozzarella di Bufala and Basil ); the other half "novita" like the Cetara with creamy burrata, Piennolo tomatoes and anchovies and the Cacio e Uova with fresh organic eggs baked in rather than placed on.
Complementing the pies, there are 14 assortments of Italian charcuterie and cheeses, in addition to 7 seasonal salads.