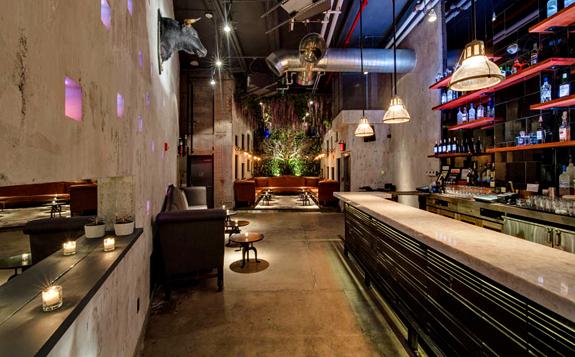 A Hidden Bar in Chelsea: Back Bar...
A Hidden Bar in Chelsea: Back Bar
If you're looking for an out of the way place to have a fun evening without getting mobbed by the latest trends in some trendy flash-in-the-pan club, then take the time to hunt down the hidden gem that is Backbar. Located in Chelsea, Backbar was built in a large storage unit and features an industrial sort of feel. This hidden lounge isn't the easiest to find, but once you get there you'll understand the draw from the horseshoe banquette to the DJ booth and marble bar. You can dance anywhere you find the space making this nightspot ever evolving. You won't regret this treasure hunt once you've step through the two plain steel doors and into the Mediterranean courtyard villa themed atmosphere.
Urbandaddy

Think of this as the new old Meatpacking. Industrial. Sort of empty. Not a place you'd go in daylight. On the flirting edge of the West Side Highway. Which means precisely nothing when you're actually in there, relaxing on a horseshoe banquette with a fresh whiskey-ginger in hand.

It's tough to find, but we'll get you there. Once you see Del Posto, just keep walking west. At the end of the building/block, you'll see two nondescript steel doors with a small cement arch over them. Bingo.
photo credit: Oleg March(urbandaddy.com)