Modern Venetian Cuisine with a Japanese Twist - All'onda...
Modern Venetian Cuisine with a Japanese Twist - All'onda
The name of this Union Square restaurant " All'onda " meaning "the waves", which restauranteur Chris Cannon and chef Chris Jaeckle has literally brought to life and featured in this combination of modern Venetian cuisine and dash of Japanese inspiration.
Pinnacles of this mash-up is the Hamachi crudi tantalized with broccoli, pepperoncini, olive oil and soy. For pasta, the Bucatini - coated in smoked uni cream sauce, spicy breadcrumbs and a hint on lemon is bliss; Lumache with bitter braised Treviso (a longer, thinner, looser version of radicchio), sweet shredded duck, and a touch of bittersweet chocolate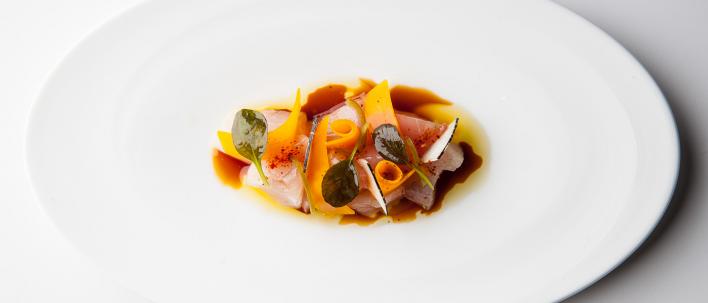 New and interesting creation is the Venetian-style ramen, made of house-made noodles, porchetta, shaved brussels sprouts, chili oil, shio kombu in parmesan dashi broth. Available for lunch and brunch only.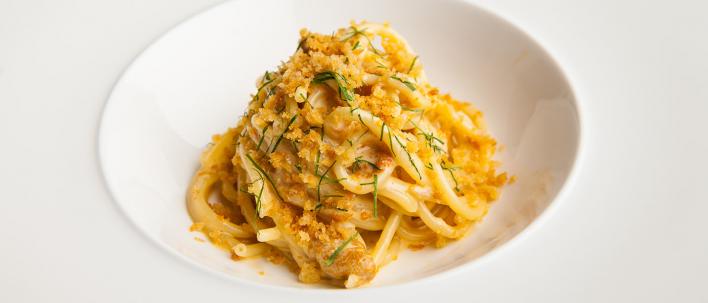 All'onda is a comfortable and casual bi-level location features a casual bar-restaurant setting downstairs (without reservation), while upstairs seating is a little more sexy and intimate, with dim lighting, booths, glazed white tiles and wooden pillared ceiling.