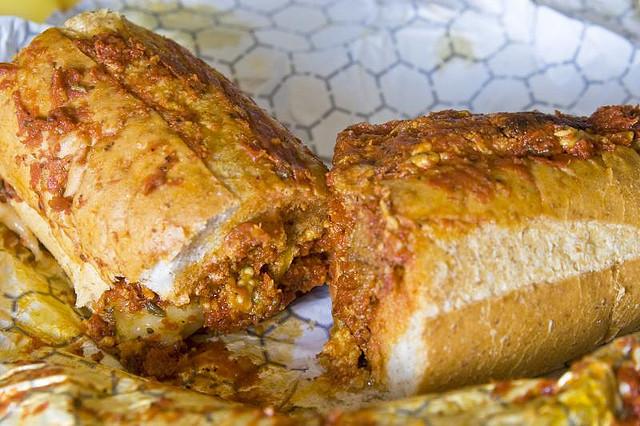 Homemade Italian Food Grocer in Astoria: Sorriso Italian Pork Store...
Homemade Italian Food Grocer in Astoria: Sorriso Italian Pork Store
An authentic Italian salumeria that let's you experience a homemade Italian sopressata, cooked and cured meats and a delicatessen that whips up flavorful sandwiches for a true taste of Italian America.
Carrying an array of Italian charcuterie and grocery item for you to plan your own meal, feel free to ask the friendly staff at Astoria's Sorriso Italian Pork Store for a sample or few so you can decide exactly what suit your palates.
Amongst the favorites on the menu are the classic parmigiana sandwich breaded and soaked with sweet tomato sauce and thin gooey cheese on a semolina roll ( it's messy but so good). Then there's the "Goodfellas", a homemade roast pork sandwich with provolone, pesto mayo served on homemade focaccia and finally, any category of sandwiches that incorporates the variety of flavorful homemade sopressata including espresso and peppercorn, red wine and garlic, chili and fennel. All with a firm balance of pork and spice.
While there, you might be also tempted fill up on many of the prepared food on order including chicken meatball Marsala, pear and Gorgonzola ravioli, Noona's stuffed mushrooms with sausage, fresh homemade mozzarellas and more sopressata for later.
There are no seats in this salumeria, but is still a great place to grab a delicious sandwich on the go or carry away a bit of Italy when you visit.
photo credit: Young Sok Yun