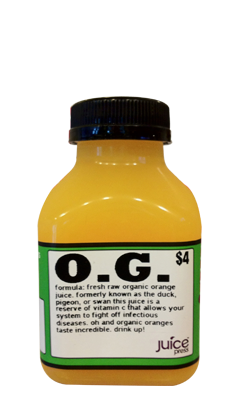 One of these a day will keep you virus free...
One of these a day will keep you virus free
Juice Press, this rapidly expanding cold-pressed juice and raw food company currently has 16+ stores throughout New York City and growing! All Juice Press stores use 100% organic, vegan, and kosher produce and ingredients. made fresh daily, juice press does not utilize any processing methods to preserve shelf life, such as (HPP). NO GMOs.
Bevnet

founded in 2010 by marcus antebi, juice press is not a passing fad, it's a way of life. as a professional athlete searching for the benefits of a clean, high-powered and unprocessed diet, marcus created his own grab and go meal resource to help share his message with the world...
NY Mag

Cold-pressed juices with names like "drink your salad" and "sweet potato pie" are offered already bottled—supposedly they stay fresh for three days in that state. You can buy these as one-offs or go full-bore with a three- or five-day cleanse if you have a few hundred bucks to spare.