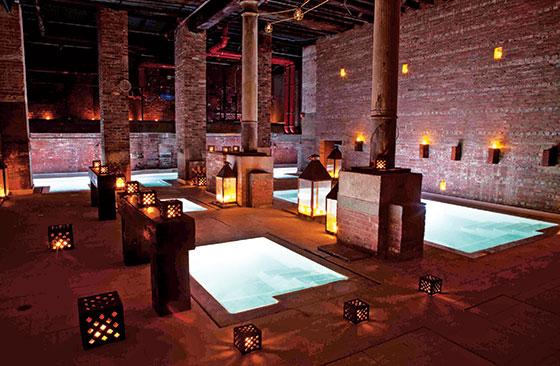 Aire Ancient Bath NYC | Roman Style Bath House Spa in Tribeca...
Aire Ancient Bath NYC | Roman Style Bath House Spa in Tribeca
Aire Ancient Bath - A Roman bath house that would make Caesar proud.
Nestled in the heart of TriBeCa, amidst the hustle and bustle of downtown New York, lies an oasis of tranquility designed to rejuvenate the mind and body. At this historic spac, indulge in relaxation and rejuvenation featuring a journey of thermal baths and exclusive treatments. The 90-minute Ancient Baths Experience invites you to lose yourself within candle-lit atmospheres across varying temperature baths. For $150 per person, enjoy the self-paced thermal tour through the hot, cold, warm, jet, steam, salt, and relaxation baths. The contrasting temperatures provide both physical and mental benefits, relaxing muscles while reactivating circulation.
For romance, book the 135-minute Love Constellations Experience for $320 per person. This signature treatment begins with a thermal tour followed by a candlelit massage incorporating your choice of Venus oil for soothing or Mars oil for energizing. Therapists guide you through soothing inhalations before a 60-minute massage with hot stones to melt tension away. The experience culminates in a fresh fruit juice, leaving you feeling balanced in mind, body and spirit. Whether you seek relaxation or romance, this historic spa promises transformative and indulgent experiences.