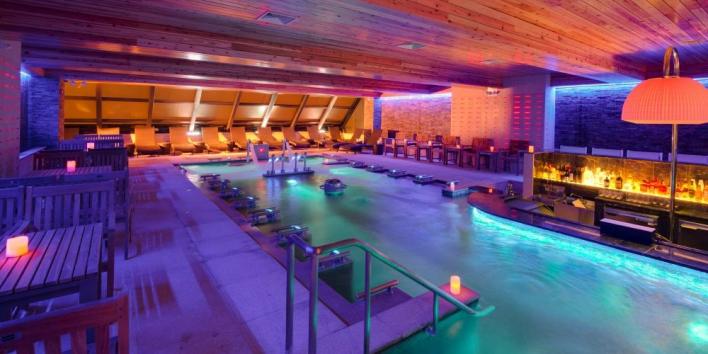 Spa Castle Premier NYC - Bliss at the Premier Manhattan Spa Resort...
Spa Castle Premier NYC - Bliss at the Premier Manhattan Spa Resort
This Manhattan-based luxury brand extension of the Queens-based Spa Castle offers an endless variety of relaxation options amid an opulent 39,000-square-foot space.
Described as Manhattan's East meets West spa resort in New York, Premier 57 offers impressive heat and water-based hydrotherapy facilities and bade pools with bar service, along with a collection of unique sauna treatment rooms ranging from infrared, gold, chromotherapy and even an ice igloo room designed to promote health and address specific ailments.
Upon arrival and $65 dollar fee, you're given a magnetic wrist watch that serves as a charge card and locker room key. Shoes are forbidden as you enter the segregated men's and women's lounges, with slippers, towels, face masks and select spa services ranging from $135-$395 in price await with a quick magnetic swipe.
The lounges are cloths-free with three separate temperature immersion hydrotherapy baths to help you detox and melt the stress away.
But the lounge is only the beginning of your blissful spa journey.
Once you've ventured out of the lounges to the co-ed ninth floor, sleeping and meditation rooms, diverse sauna theme rooms, co-ed bade pool with bar service and cafe await.
As if two floors of relaxation bliss isn't enough, Premier 57 opened an outdoor roof deck with bade pool in Spring of 2015.
photo credit: Spa Castle Premier