Russian and Turkish Baths , Dead Sea Salt Scrub / Mud Treatment , Ancient Steam Room and Sauna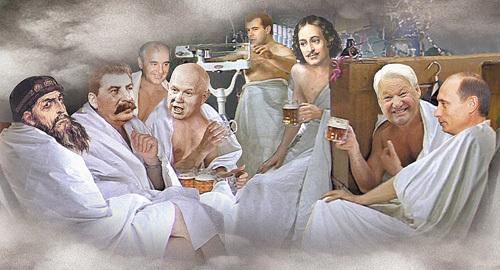 Banya (a Russian type of sauna or a kind of steam bath) is one of the oldest Russian traditions. No sweat bath in the world has been as well chronicled as the Russian Baths even the information on Finnish sauna is minute in comparison. The Russians became infamous for their enthusiastic bathing and despite this eons old tradition, the banya is still trends today.


Ins and Outs of Russian Banya
A tradition banya is heated with firewood but these days many establishments use electric heating. Inside the banya, a series of wide wooden (or stone) benches set up like steps with one higher than the other. You may lay or sit and the higher up you go, the hotter the air and steam. Once you're hot enough, you go out and take a plunge in the icy-cold pool and if in Siberia, just walk out and lunge into the snow.
What is the deal with Veniks?

Veniks are bundle of twigs and leafy branches bound together from types of tree – usually birch or oak, and some claims to use eucalyptus but that's not usually the case.
So what is it used for? The veniks is for fanning the heat. Once your body gets hot and the temperature is high, rhythmic smacking of the veniks all over the body makes for a good massage.
Why Banya?
It's a place for communication, it's considered that the atmosphere brings people together and allowing one another to communicate on a more leveled field. During the break, they walk out to a separate room to cool down, relax, snack and converse about life, ideas and beliefs with one another. Of course nowadays, there are even hosted banya parties.
Then of course there are the health benefits such as cleansing the skin, helps keeps it soft and smooth, detox by sweating out impurities and harmful elements from the body, prevent illness and of course weight-loss for men and women by going regularly once a week. There's also a Russian proverb referring to the health benefit, "The day you spend in the banya is the day you do not age."
Russian Baths in NYC
After a long day battling your job, doing errands, shopping or even sightseeing, it can be a real treat to melt into a quality Russian banya. The Kremlin might be thousands of miles away, but spirits of the Russian tradition is certainly prevalent at these spa centers.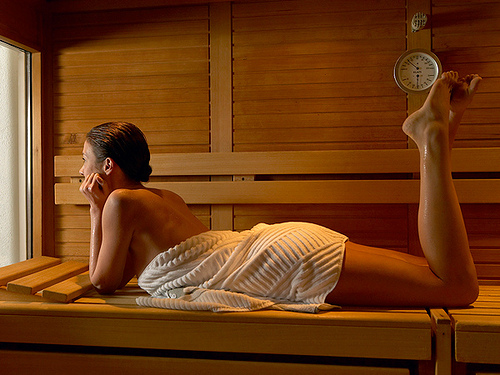 50% off on Russian baths and spas View Deals




Manhattan
Wall Street Bath and Spa

88 Fulton Street - Financial District, Manhattan - Admission: $35 website

This below-ground bathhouse has three main areas: the Russian sauna, built traditional way with 16 tons of granite, a white-tiled eucalyptus steam room, the "old-American Shvitz" ( a sauna with faucets and buckets for dousing yourself with ice cold water ) and the infrared sauna that emits radiant heat absorbed by the body, activating cells, supports metabolic processes and releases toxins.

style="display:block"
data-ad-client="ca-pub-2430780616696920"
data-ad-slot="5942191403"
data-ad-format="auto">

For an oligarch experience, get the VIP package - so classic you'll think there's whipping winds, tundra and furry hats outside while you melt into these hot saunas. Included is your very own jacuzzi, plasma TV, lounge area where you and your "bestys" can enjoy in complete privacy plus your own pool table!

This spa experience is not just for bankers or suits working in the financial district - everyone gathers here to relax away the city's grime and spend some quality time in the swimming pool, cigar lounge, cold plunge, juice bar and of course the bath house..

Russian & Turkish Baths

268 East 10th Street - East Village - Admission: $35, Group discounts available- check online schedule for non-coed hours website

Established for over 120 years ( built 1892 ), Russian & Turkish Baths is an institution, an authentic no-nonsense, no-frills banya located in the East Village.

Featuring 4 combined varieties of dry saunas and steam rooms - there's is the authentic Russian sauna made of 20-tons of granite cooked overnight to give off immense heat, a Finnish cherry-wood sauna, an aromatic steam room and the white-tiled Turkish room with eucalyptus or lavender bliss.

The primeval appearance is charming to some and maybe dingy for others, but the communal atmosphere and facility is what really helps it stand out, including the surprisingly tasty Russian fare, a roof-top sundeck during the warmer seasons and combining the ideas of social saunas with semi-private treatments for an overall refreshing experience.

It's a no-frills approach to enjoying a spa, but has a wallet-friendly price tag to match that mentality.

88 Franklin Street - Tribeca - Admission: $75 (weekdays) / $85 (weekend)

Not exactly your traditional Russian bath per se but decked with various baths to choose from including the ice water plunge bath and a steamy aromatic hammam modeled after the Greco-Roman and Ottoman style, the elements are there for a good banya session minus the venik; but more than makes up for it with other baths such as one with jets similar to a hot tub, another with salt water, then pools of hot, warm, cold the of course the icy water. Tack on on a 45min massage session and you're bliss

The grotto that houses the baths are adorned with candles on top of candles and more candles, which is the primary source of light, soft mellow music in the background, exposed bricks and high-ceilings. Hidden private nooks and crannies every so you feel like lounging at Hef's grotto. (ok, not really)
Brooklyn
Mermaid Spa, Seagate Brooklyn

3703 Mermaid Avenue - Coney IslandAdmission: $30 - Additional treatments extra - website

When you need a break from all the ironic sweater sets and eclectic coffee shops of Brooklyn, slip into something more comfortable in the spa-centered Seagate community. It's a known fact that this retreat draws in all walks of life, looking to mingle, unwind and enjoy some exotic delicacies. It's open year-round and has two hot and cold pools, a sauna, jacuzzi and more encased in sleek slate and dark woods. They often equip the sauna rooms with fresh eucalyptus and mint so you can breath in the cool, tingly air that heightens the senses and cleans out your system.

Not only can you peel away from your laptop and enjoy the company of others in this great spa, there's an attached restaurant serving classic Russian dishes, cold beer and as many authentic vodka shots you can handle.

Sandoony USA

1158 McDonald Avenue - Brooklyn - Admission: $30 (online)- Additional treatments extra website

Borrowing the same name from the ultra-luxe yet unaffiliated banya in Moscow, Sandoony features 3 saunas including 2 Russian-style wood saunas producing wet heat, a Finnish tiled dry heat sauna, and also a Turkish steam room (hammam).

Order up some Russian appetizers, fresh juices and beers at the communal pool area with a full size swimming pool, ice plunge pool, a jacuzzi and organize with patio-like furnitures, lounge chair and modern features like flatscreen TVs so you can spend some time gliding through the cool waters, stretch your muscles, then sweat it off and detox in any style of heat you choose.

Bonus Mention: Russian Baths on Neck Road

Admission: $40 (adult) - website
Queens
Forest Hills Spa

5921 Calloway Street - Queens - Admission: $30 (Adult), $20 (Children), Group discounts available. website

What sets this place apart? Dolph Lundgren was here. (no, seriously, check out the website)
The rich red woody club-like ambience also house a jacuzzi, the standard cold-plunge, Russian hot (shvitz) sauna, Finn dry heat cedar sauna, aroma therapy steam room.

Besides the relatively cozy (small) hot rooms, Forest Hills Spa also house a full-size swimming pool and if you're looking to have a little more personal attention, the friendly staff will take care of you to an all-natural body scrub treatment with lemon juice, honey and Dead-Sea salt scrub or a massages, such as hot stone, Swedish deep tissue or the pore opening platza oak leaves session.