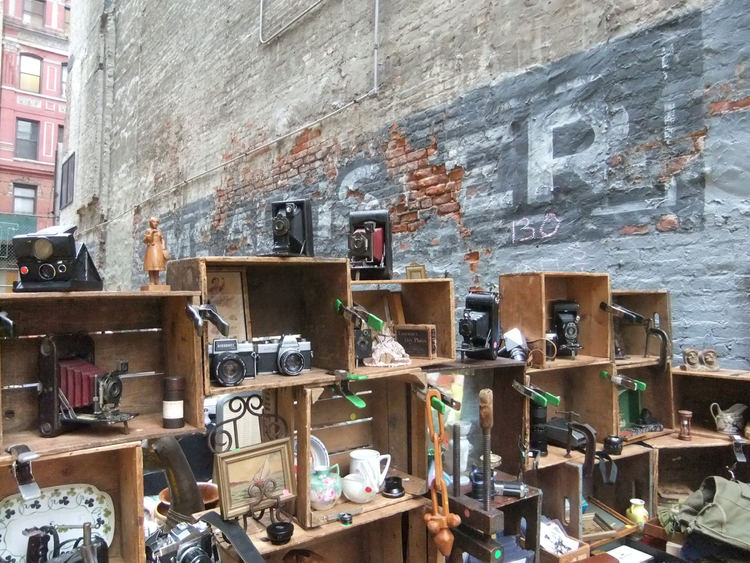 New York City and great shopping go hand and hand. With chain and boutique stores around every corner, you can be sure to find more than a few appropriate gifts! Yet, you may not find those one-of-a-kind items in New York's commercial establishments. For those unique and innovative gifts, sometimes heading to the open and flea markets (available year round!) that keep the city's thriving could be your best bet.
The following outdoor markets and venues are the worthy experience for locals and visitors alike…and even if you don't buy anything, the experience of exploring will be worth your time spent in the outdoor.
Antiques and Vintage Treasures
In the bustle of New York City is a set of winter markets that provide for an interesting and fun experience. For art, design, fashion and vintage-lover in your life, look no further than Artists and Flea Market located inside Chelsea Market with a sister location in Williamsburg, Brooklyn - unique finds can be discovered throughout the year.
New Yorkers come here to see what special treasure they can obtain while travelers look for a great trinket of decades past to take home with them. Near Chelsea is the Chelsea Flea Market and the Hell's Kitchen Flea Market. As the names suggest, these markets offer a treasure trove of antiques and diverse goods and products to all who visit. Focusing on promotion of the local craftsman and a desire to keep the area thriving, these markets joined together fully in 2003 as the Annex Markets and began working in conjunction to help revitalize the city and its economy in their own unique way.
Perusing the antiques and vintages in this district can be a day-long affair which makes it a popular option on the weekends. Brooklyn Fleas offers the similar experience as well.
Fresh Produce, Meats and Seafood
If you're looking for green gifts, the Green Market Farmer's Market should be one of your first stops. This outdoor venue was established so that New Yorkers could not only experience truly green products but also so that they could support the local economy.
Farmers from all over the state send their greens and fresh produce to the City where they can be sold outside in parking lots and other outdoor mobile markets. There are several throughout the City and the locations can vary.
If you're in Brooklyn, check out The Park Slope Winter's Farmers Market promoted by Down To Earth. The goal of this group is to provide other healthy and green options to New Yorkers and is open from January until May and offers different local vendors and farmers the chance to share their goods. From seafood to yarn, there is something for everyone at this winter market option.
If you're shopping for your Feast of the Seven Fishes for Christmas Eve, visit Lower Manhattan's New Amsterdam Market with all the fresh seafood and fish you could want. The market offers locals a chance to come to a public market where they can get great service, and unique fishy offerings. A public market that runs on donations, the New Amsterdam Market is a location for fun and enjoyment as much as for sustainable seafood.
Holiday Shopping and Winter Fun
Annually, the Union Square Holiday Market opens up for a time of shopping and fun. Held around the holidays, this outdoor winter market is home to usually around one-hundred fifty vendors who share and supply goods that are available to individuals to fulfill their holiday wish and shopping lists. Residents love this great spot for shopping and supporting local vendors while getting their shopping lists completed and tourists who are lucky enough to stumble upon it are not disappointed by what they find.


If you're looking for one outdoor holiday shopping experience to rule them all, we highly suggest the Bryant Park Winter Village which opens October 1 – March autumn/ winter season. Moving through each unique little stand, you'll hear the sound of the ice skaters in Bryant Park glide to the holiday music. Stop at the concession stand for a hot chocolate and find something unique, creative and different from each vendor. Whether you're into art, soaps or chocolate, there's something at the Bryant Park Winter Village for everyone young and old on your list.
If you're not the outdoorsy type – or you simply need a break from the cold! – move from the Bryant Park Winter Village into Grand Central Station; the top level of the terminal by the 42nd street exit turns into a Winter Wonderland of unique gifts from craftsman from all over the tri-state area and beyond! Winter hats and scarves abound, as do homemade goods that you can quickly purchase on your way to the train.
This list barely covers all of the outdoor holiday shopping fun to be had in New York City, but certainly is a list of our favorites! Do you have more to add? Leave us a comment below and tell us where your favorite place to outdoor shop in New York City is during the holidays!