The Essentials of NYC Chinatowns - The "Big Threes", depending on your mood there's a Chinatown for everyone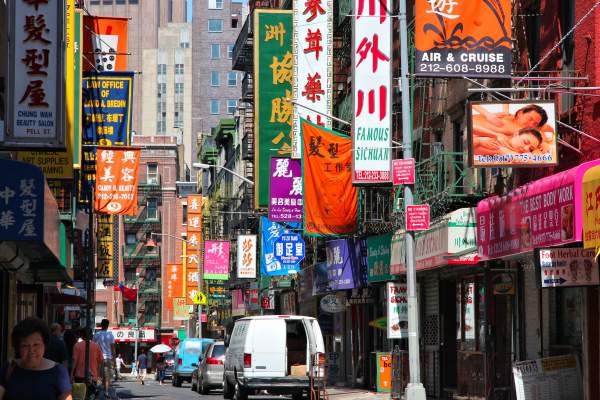 Bursting with authentic culture, exciting chaos and sumptuous food, New Yorkers are lucky to be able to swing in and out of these communities as often as we please and for visitors, New York City Chinatowns are not to be missed while in the city.
The "Big Three", found in Manhattan, Brooklyn and Flushing Queens, brings a certain style to its surrounding borough with its deep set traditions, cuisine and inhabitants.
Manhattan Chinatown
The most popular Chinatown in the city, this is where everyone tends to go when looking to have a great time enjoying the Asian culture. It's colorful storefronts, elaborate parades on Chinese New Year and fascinatingly authentic marketplaces made for a crazy but fun place to wander through.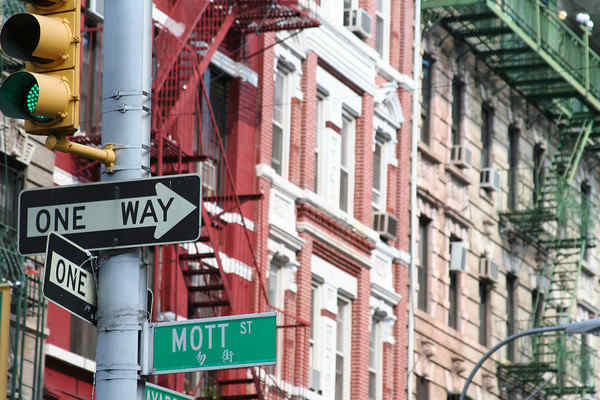 As you start your walk, grab a bubble tea from the hand-full of Taiwanese Tea shops including the Ten-Ren Tea Company. If you are not familiar, traditionally it is milky hot (or cold) tea with chewy tapioca balls sipped through a big straw.
Do not be intimidated by signs in foreign languages, any of the bakeries, shops and restaurants have english menus or are willing to help you out if you ask nicely. If you fancy a relaxing massage that really get you "loose", head to Wu Lim Qi Gong Master. You will not get a posh spa experience, as a matter of fact newbies may get sketched out by the non-décor this underground massage parlor but you'll appreciate the no non-sense Qi Gong approach to working out the knots.
Between eating, shopping and treating yourself to a massage, visit the Museum of Chinese in the Americas to learn about how this fantastic neighborhood came to be.


Brooklyn Chinatown
Most tourists make a beeline for the Manhattan Chinatown, but there is also a hidden gem in Brooklyn worth exploring as well. It is actually one of the fastest growing Asian communities outside of China and now rank 1st, as the largest Chinatown of NYC with 34,218 Chinese residents.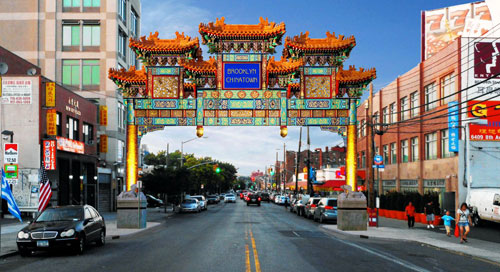 Also arguably house the best of the big three for dim sum too ( East Harbor Seafood Palace and Pacificana ). Grab a table at any of these restaurants and be treated to a hearty meal of herbal teas and plenty of tapas-style savory snacks and dumplings stand alone or in soups. Just like old-school Hong-Kong, dim sum ladies with serving carts will roll around from table to tables where patrons can point out which they like to sample from the cart.


Flushing Queens Chinatown
Bordering with CitiField, or the home of the New York Mets, get off the 7-train at main street station in Flushing Queens, you'll step in to the 2nd biggest Chinatown of the "Big Apple". Originally known as little Taipei, many of the first to arrive and developed the Flushing Chinatown were immigrants from Taiwan. It may be also the reason why Flushing was the first to introduce a tea house offering bubble teas (originated from Taiwan) to New Yorkers, nowadays new bubble tea cafes are popping up everywhere in the city and around the world.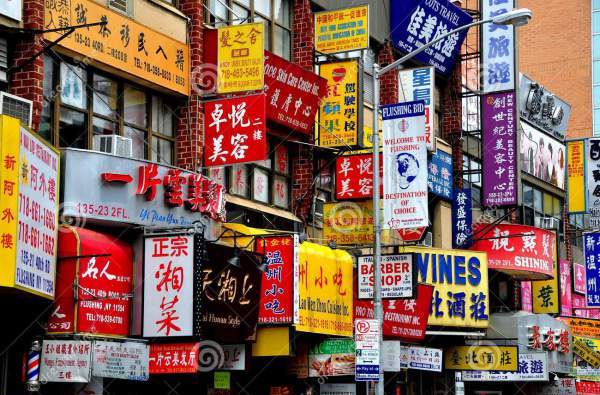 The intersection of Main street and Roosevelt avenue is the heart of the Flushing Chinatown consisting of all nationalities but predominantly Koreans and Chinese. Walking in the street you'll see the busy streets lined with combinations of signs in Korean and Chinese for busy restaurants, shops, markets and food halls.
Compare to the other Chinatowns, the supermarkets are bigger, such as the Hong Kong Supermarket, and it's truly a foodies paradise, many locals will say that you'll eat better here and cheaper. Visit one of the many Asian pastry shops for Egg tart or red bean bun while toking on bubble tea.
For dim sum, make a bee line for Asian Jewels Seafood Restaurant - for taiwanese ramen, head Liang's Kitchen or Taipei Hong for some of the best, you can even go for authentic Korean BBQ in the neighborhood.
Finally the extreme cheapo's popular $1 peking duck sandwich on Main steet.