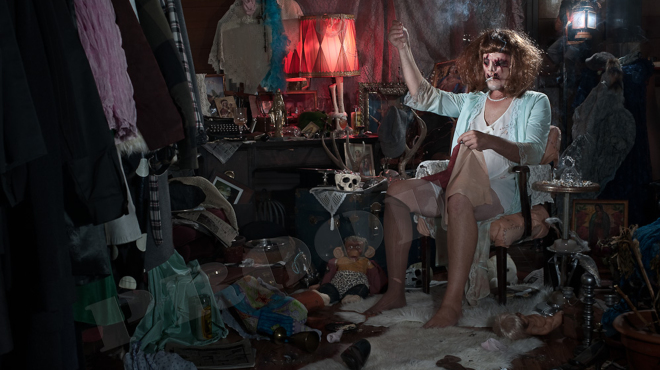 Best outdoor party
Village Halloween Parade
NYCgo:

This year marks the 40th anniversary of the Village Halloween Parade, an annual showcase of devilish fun scheduled for Oct. 31 at 7pm. You can watch anywhere along the Sixth Avenue parade route from Spring to 16th streets, but if you're in costume you can also take to the avenue yourself and march along with puppets, dancers, bands, artists and the crazies. The 2012 parade was cancelled due to Hurricane Sandy, and this year's celebration will only happen if its $50,000 Kickstarter campaign is fully funded by Oct. 21 (at publication, it was $7,774 short of its goal). No tickets are required for the free event, but to walk, show up at Sixth Avenue, south of Spring Street and north of Canal from 6:30 to 8:30pm.
Where: To Participate, show up on Sixth Ave between Spring & Canal Sts.
To Watch: 6th Ave. from Spring to 16th Street
When: Oct. 30th 6pm.
Best FREE party
Village Halloween Parade
Where: (see above)
When: (see above)
Best Live Entertainment
Speakeasy Moderne: Halloween DANCE PARTY

Audience members are encouraged to dress in period style of the 1920s, '30s and '40s and have a HALLOWEEN Speakeasy Party!
Cabaret Acts, Burlesque Acts, DJ, Dancing, Costume Contest with Prizes, and Full Bar. With Broadway Singers, World Class Dancers, Opera Singers, Live Music, and Burlesque Star Kat Pussnboots.
Where: Stage 72, 158 WEST 72ND STREET
When: Oct. 25th 9:30pm
Classiest Party
Black Tie Halloween Masquerade Ball

The NoMad is throwing a classy Halloween party on October 31st. It's a Masquerade Ball so MASK and BLACK TIES are REQUIRED. Given that Nomad is hosting the bash, we know there will be fabulous food and drinks from the greatest plus four live entertainment by Chris Norton Septet, SugarTone Brass Band, Satin Trio, and D.J. Jesse Felluss.
Where: The NoMad Hotel, 28th Street between Broadway & Fifth Avenue
When: October 31st, 2103 - 8PM
Purchase Tickets Here
Best place to get spooked
Blood Manor
NewYork.com:

Often called the best haunted house in New York City, Blood Manor returns in 2013 for another year of creepy fun through Nov. 2. This experience includes almost 5,000 square feet of labyrinth hallways, themed rooms and "actors" in spooky, fake blood-covered costumes. It is recommended only for those 14 or older and is designed as a seriously scary experience — get ready to scream. Groups of six people at a time go through, on foot, for the 20 to 25 minute experience. Tickets are $30 and up, plus $3.50 handling fee online. 163
Where: 163 Varick St.
When: thru Nov. 2nd
runner up
Nightmare: Killers 2
Time Out:

New York's biggest haunted-house experience has gone the way of the horror movie and returned with a sequel for the first time in its ten-year history. Nightmare creator Tim Haskell takes another stab at bringing historical and contemporary serial killers back to life, such as Harrison Graham, Aileen Wuornos, Ed Gein and Charles Manson. We're shaking already—there's nothing more frightening than a recurring nightmare.
Where: CSV Cultural Center, 107 Suffolk St (Rivington & Delancey)
When: Now thru Nov. 2nd