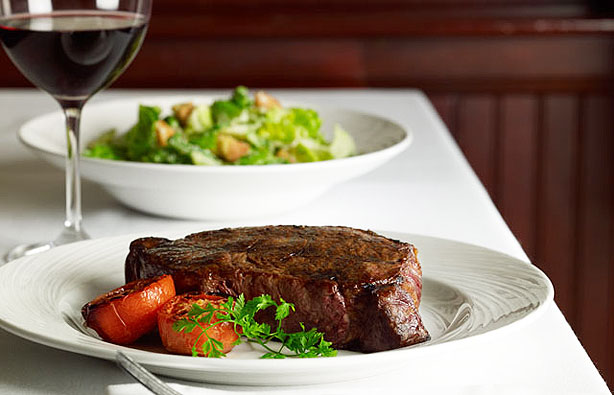 Picture a hearty, perfectly cooked strip steak savored in the heart of New York City. It doesn't get much better than that when we're talking delicious, tender, "umamified" meat. But when it's time to choose the best place for a New York strip, where do you go?
The strip has a pretty fascinating history. Back in the early 1800s, there was a popular restaurant called Delmonico's in Manhattan. The cut from the short loin had usually been ignored until this eatery started serving up juicy slabs of it to hungry customers.
Since then, many people refer this type of beef as the Delmonico, and now more popularly known as the New York Strip Steak. There are several variations, nicknames and legends behind it's true origins, but this is the story that seems to stick best. If you are in the mood for one on your next nightout, then here are the best in town.
Palm
837 Second Ave (between 44th St & 45th St) -
website
This is a classy establishment, with a club-like atmosphere indulging in some absolutely amazing cuisine. This doesn't mean you and your hipster Chuck Taylors are excluded, but dust off that tie in the back of your closet (optional) and reserve a table at this famous eatery that highlights some of the best steaks in town.
Since 1926, the Palm has had plenty of time to perfect it's glorious strip steak recipe, which is hailed as an amazing main alongside their three cheese potatoes, cream of spinach, wild mushroom and seafood.
Palm Too
840 Second Avenue (between 44th St & 45th St) -
website
So what do you do when the Palm is all booked and you're hankering still for that delicious steak? Head across the street to Palm Too, the mirror restaurant with the same menu and high standard of delivering the best steak in the business to their clientele.



The Dutch
131 Sullivan St (between Prince St & Houston St) -
website
The cheery restaurant located on Sullivan Street is a mecca of sorts for steak lovers across the globe and in Manhattan. The guys behind this concept hail from Florida and have just opened a second location in Miami Beach.
Try any of their organic and often locally sourced dishes and be satisfied, but definitely don't miss their signature strip steak. It's bone-in, prime cut, aged for 28 days, shipped from a ranch in Nebraska and served with a tasty fresh salad.



Gotham Bar & Grill
12 E 12th St (between 5th Ave & University Pl) -
website
Are you ready for this? As your third course, indulge in a 28-day dry aged strip steak, smothered in a dijon mustard custard and vidalia onion rings.
The Michelin-starred grill house works magic on steaks, as well as seafood and other fresh meats. Devour your strip steak, then save room for one of their exclusive ( also magical ) chocolate tasting experienced paired with a over-sized glass of multi-note red wine.



Want to Make a Delicious Restaurant Quality New York Strip at Home?
Ingredients
2 (12-ounce) lean, grass-fed New York strip steak
1 teaspoon kosher salt
3/4 teaspoon black pepper
1 tablespoon Worcestershire sauce
1 tablespoon olive oil
2 tablespoons butter
2 thyme sprigs
2 garlic cloves, crushed
Instructions
Pat the steaks dry, add Worcestershire to the one side and sprinkle salt and pepper evenly over the steak and let stand for 30 minutes at room temperature.
Preheat oven to 400f (205c).
Place a cast iron skillet or stainless (oven safe) pan (NOT NON STICK!), over medium high heat. Drizzle the olive oil onto pan and swirl to coat.
When the pan is really hot add the steaks (add a few drops of water to it. If they dance around and evaporate almost immediately then you're good!). Cook for 3.5-4.5 minutes on one side until brown or until a good crust forms.
Flip over and immediately shut off the heat to the pan, then immediately add butter, thyme, and garlic on top.
Put the pan into the oven. Cook per the 'doneness' (Very Rare 4-5 minutes Rare 5-6 minutes Medium Rare 6-8 minutes Medium 7-10 minutes ). When done, remove the pan from the oven and steaks from pan, reserve butter Mixture. Allow to rest for 5 minutes before cutting.
Cut steak diagonally across the grain into slices. Spoon butter mixture (without thyme and garlic optional) over steak.