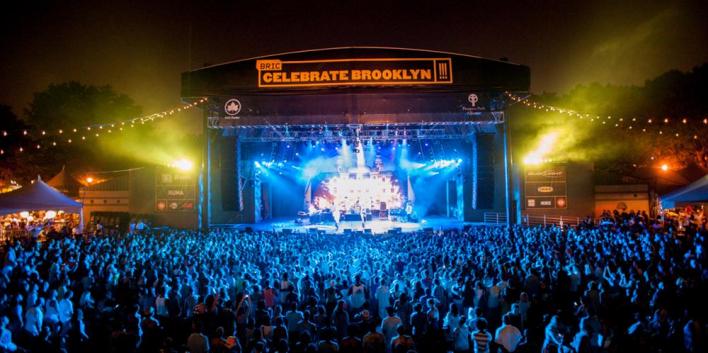 While the recent weather says otherwise, summer is descending upon New York City and that means it's time to hop the subway and turn up for the outdoor concerts and festivals that abound around the city. If you haven't had the chance to enjoy NYC's many outdoor festivals and concerts, grab your sunscreen, your water bottle and read this, our roundup of the best outdoor festivals coming to you this summer.
Celebrate Brooklyn at Prospect Park Bandshell: If you haven't made time to check out Celebrate Brooklyn!, one of NYC's longest running, free outdoor performing arts festivals, it's about time. Join 250,000 of your fellow New Yorkers and Brooklynites and enjoy over 2,000 artists and ensembles, many hailing from the borough themselves throughout the summer.
Our suggestion? Don't miss The National performing June 19 (June 17 and 18th shows are sold out but you can still find it on FreshNYC.com). Originally from Brooklyn, The National will make their return with selections from their latest album, Trouble Will Find Me. In July, catch Nick Cave and the Bad Seeds at their follow-up from a completely sold out North American Tour in early 2014. In August, belly up to the Bandshell for St. Vincent, as she makes her long-awaited Bandshell debut performing with San Fermin, Brooklyn native Ellis Ludwig-Leone's orchestral folk-pop composing and songwriting project.
A bit further south, you'll find the Central Park Summerstage full of action as the weather heats up. The Summerstage concert series was found in 1986 and is a free, outdoor festival of the arts. With a great lineup throughout the summer, book your tickets now for the June 30 to catch Counting Crows with Toad the Wet Sprocket & Daniel and the Lion. Can't make it June 30? Head to the Central Park Summerstage the next night, July 1, for Beck who will be bringing his first record in six years, Morning Phase, to life.
If you're looking to really get away, cross the East River to Randall's Island to enjoy a performance from Phish, who have a three-day stint from July 11 until July 13. OR catch what just might be the one of the most legendary events for dance-music fans, Electric Zoo: a three-day annual electronic music festival held every Labor Day Weekend. Be forewarned: that this is an intense event, where any hope for personal space will be nonexistent.
If you're not a huge fan of outdoor concerts (goodbye, mosquitoes and muddy dance floors!), check out pop/dance-hall queen Rihanna as she takes the stage with Eminem: The Monster Tour on August 16 & 17. Since their initial collaboration on the hit song, The Monster, they've been rehearsing for their one-month concert run, which will be rocking stadiums right through the end of the summer.
If you love music and you love concerts, you won't have to look much further than your own backyard for some of the hottest festivals, best shows and chart-topping artists. With hundreds of top performers taking to open-air stages and indoor venues all across NYC you won't have to look much further than your own backyard for the hottest festivals and chart-topping artists. Now it's your turn to start planning (just trust us on the whole sunscreen thing).