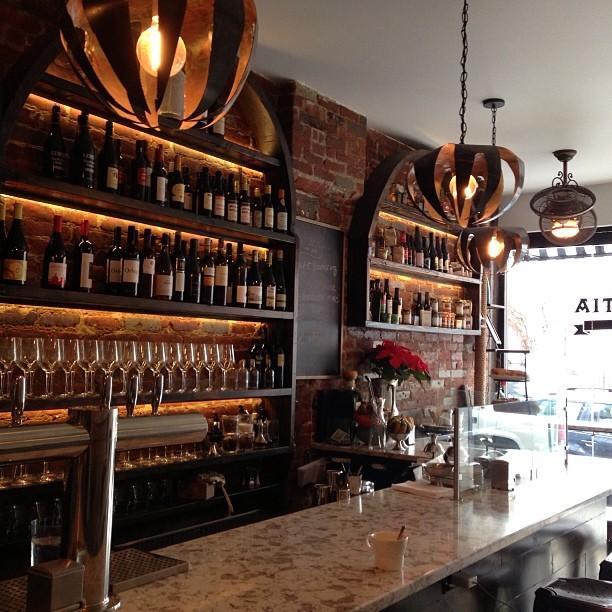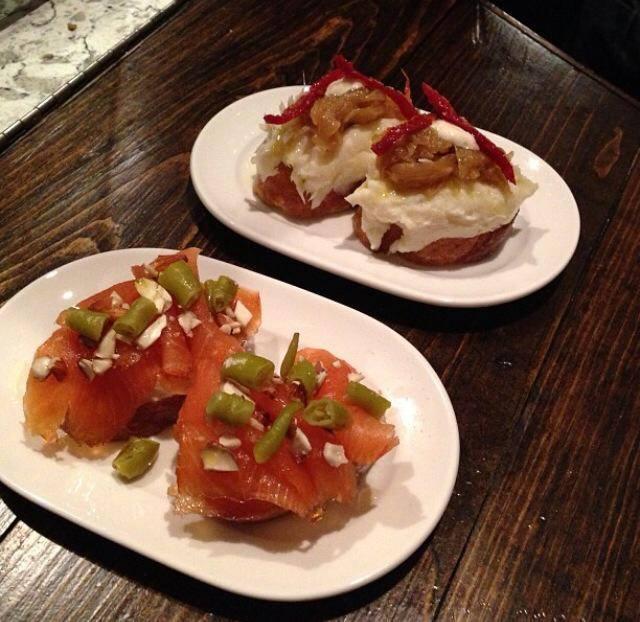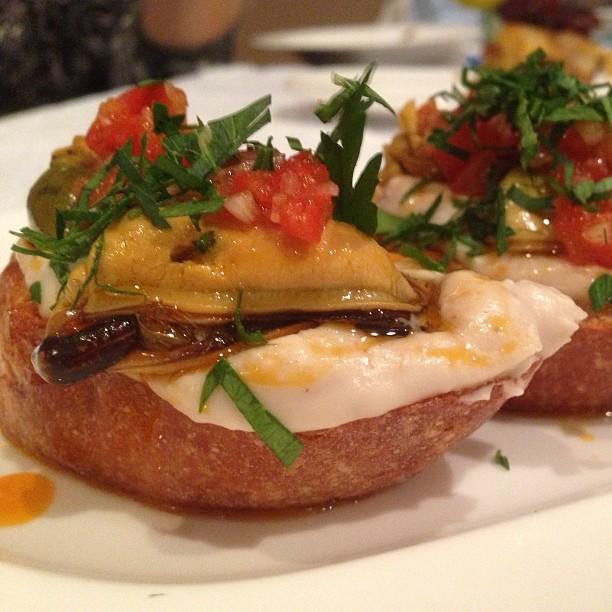 Tapas and Wine Bar - A Taste of Spain in East Village: Donostia...
Tapas and Wine Bar - A Taste of Spain in East Village: Donostia
Donostia is a tapas bar that mixes Spanish cafe and San Sebastian Market to bring an experience of Basque cuisine to New York City. Named after a picturesque seaside hotspot in the northeastern coast of Spain, the space with exposed bricks wrapping the long white-marble bar, hanging aged "jamons" and an open food prep-area giving it a rustic market feel. Unique globe-like lighting and relic maps help to accentuate warm worldly charm.
At Donostia, the ideal is the to have a couple drinks (or few) while snacking along way. For a taste of the quintessential, sample "Gilda" banderilla – essentially food on a stick with pickled guindilla peppers, white anchovies, and manzala olives, and wash it down with lightly sparkling, dry Txakolis by the glass.
The smoked salmon "Montaditos" stand out as one of the other popular and is served with crema, guindillas, almonds and local raw honey. These bite sized treats also come in other variety such as Bonito (bonito tuna salad, piquillo, boqueron and aioli) or Brandada De Bacalao (whipped salt cured cod, carmelized onion, sundried tomato and aioli).
This is the kind of place to gather with a few friends after work, a date for a charming get together. Not ideal for large groups, as the small space lends itself to small gatherings. A convenient bonus - USB ports are available under the bar so you can charge your phone and Wi-Fi is free.
photo credit: Donostia