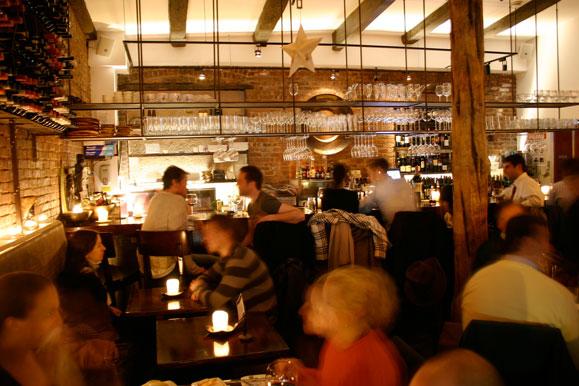 XAI XAI Wine Bar: The Best of South Africa in Hell's Kitchen...
XAI XAI Wine Bar: The Best of South Africa in Hell's Kitchen
Named after a small beach town in Mozambique, Xai Xai (pronounced shy shy) equally delivers on culinary and aesthetic levels. In 2007, Xai Xai owners transformed an old laundromat called "Ding-Dong cleaners" in Hell's Kitchen into New York City's one and only South African winebar with "tapas" style dishes that offer your taste buds a delicious blend of African colonial influences and exotic spices.
The wine connoisseur will be impressed with the locale's list of 100 distinctive wines which includes South Africa's signature Pinotage. Pair a glass of sauvignon blanc or notable member of the cape or bordeaux style blends with artisanal cheese or South African Biltong cured meat, but leave room for more. Salad lovers will enjoy the Kalahari salad which combines a selection of South African dried fruits and cured meats served with candied walnuts in honey Rooiboos. Meat lovers can pick between mini sosaties (skewers) in peri-peri prawn or lamb or exquisite braai'd mini burgers in chicken, ostrich or lamb. Vegetarians will also find a good selection of light plates like the portabello mushroom with goat cheese or crisp and tender asparagus budles with melted brie in an orange honey glaze and toasted dukkah. Xai Xai offers the best of South Africa right in the heart of New York City.