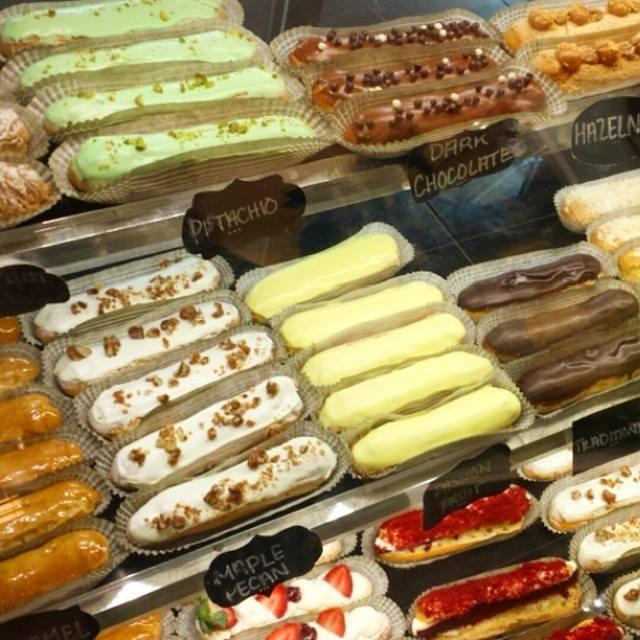 Éclair Bakery NYC | Decadent Parisian Baked Treats in Midtown...
Éclair Bakery NYC | Decadent Parisian Baked Treats in Midtown
Opened since 2013, Éclair Bakery is a childhood dream come true for Stephane Pourrez, ( an alumnus of the French School of Culinary Arts in Paris ) who brought his passion for croissants, macarons, brownies, eclairs, and many other Parisian confectionary treats to NYC; and it is the perfect place to stop by anytime of the day (open till 12am) to indulge in decadent pastries.
The menu is filled with tasty array of éclairs, currently 11+ total from traditional, pistachio and chocolate to caramel praline, chestnut rum and red velvet. The éclairs are tender, buttery and crisp (not croissant-like) and combining a good balance of sweetness from the cream fillings contrasting with the crisp dough and the toppings.
The croissants at Éclair Bakery is one of the best in the city, try any of the almond varieties (almond, almond chocolate, almond raspberry) or the classic Pain-au-chocolate, they are flaky, dense and satifying.
Another standout treat is the "Galette des Rois" or King Cake, a flaky puff pastry layers with a dense center of frangipane (almond custard cream). The puff pastry is light and airy and perfectly executed with the crust giving a nice crunch
The location offers itself up as a small inviting café with 5 to 6 two-seater tables for one to sip espressos or cafe au lait. Delivery is also available on seamless or just stop in for a grab-and-go.
If a delicious croissant or éclair to savor with coffee is what makes your day. Then Éclair Bakery is the perfect place.