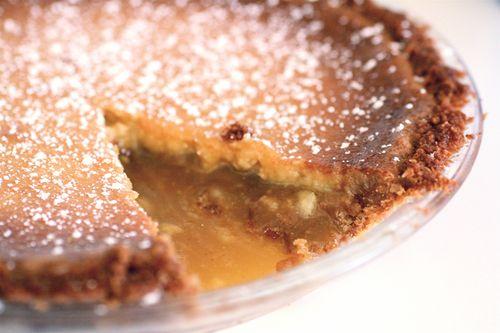 Momofuku Milk Bar's Crack Pie...
Momofuku Milk Bar's Crack Pie
Anyone who has taken a bite of Momofuku Milk Bar's best seller immediately knows the reason for the sassy name. Once you start eating this rich, salty-sweet pie with its oat cookie crust, you won't be able to stop.
Dare to put your baking skills to the test?
Momofuku Milk Bar Crack Pie Recipe
Servings: 10 to 12
Prep: 40 minutes
Total: 15 hours
Ingredients
Oat Cookie Crust
Preparation
Oat Cookie Crust
Preheat oven to 350°F. Line 13x9x2-inch metal baking pan with parchment paper; coat with nonstick spray. Combine 6 tablespoons butter, 4 tablespoons brown sugar, and 2 tablespoons sugar in medium bowl. Using electric mixer, beat mixture until light and fluffy, occasionally scraping down sides of bowl, about 2 minutes. Add egg; beat until pale and fluffy. Add oats, flour, baking powder, baking soda, and salt and beat until well blended, about 1 minute. Turn oat mixture out onto prepared baking pan; press out evenly to edges of pan. Bake until light golden on top, 17 to 18 minutes. Transfer baking pan to rack and cool cookie completely.
Using hands, crumble oat cookie into large bowl; add 3 tablespoons butter and 1 1/2 tablespoons brown sugar. Rub in with fingertips until mixture is moist enough to stick together. Transfer cookie crust mixture to 9-inch-diameter glass pie dish. Using fingers, press mixture evenly onto bottom and up sides of pie dish. Place pie dish with crust on rimmed baking sheet.
Filling
Position rack in center of oven and preheat to 350°F. Whisk both sugars, milk powder, and salt in medium bowl to blend. Add melted butter and whisk until blended. Add cream, then egg yolks and vanilla and whisk until well blended. Pour filling into crust. Bake pie 30 minutes (filling may begin to bubble). Reduce oven temperature to 325°F. Continue to bake pie until filling is brown in spots and set around edges but center still moves slightly when pie dish is gently shaken, about 20 minutes longer. Cool pie 2 hours in pie dish on rack. Chill uncovered overnight.
DO AHEAD: Can be made 2 days ahead. Cover; keep chilled.
Sift powdered sugar lightly over top of pie. Cut pie into wedges and serve cold.