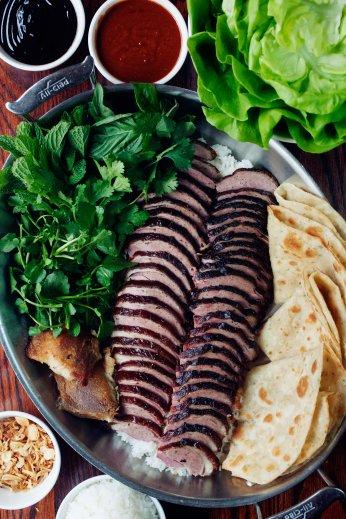 Momofuku Large Format Meal Feast: Momofuku Ssäm Bar...
Momofuku Large Format Meal Feast: Momofuku Ssäm Bar
Momofuku ssäm bar serves-up large format meal fiesta. This meal is for celebrating even if you are just celebrating an awesome meat.
Got a hankering for some duck? Then think about gathering a group and heading to Momofuku ssäm bar, lunch or dinner, and ordering up the whole rotisserie duck. This "large format" meal feeds 3 to 6 people and you get a reservation to be assured you will have a seat. This meal comes with chive pancakes, bibb lettuce, hoisin, duck scallion sauce, shallots and a choice of two seasonal sides. The duck comes from the Cresent Farms in Long Island and is stuffed with duck and pork sausage under the skin before it is cooked on the rotisserie. If your group is larger than six, ssäm offers a duck ssäm prix fixe menu.
If duck isn't your craving, then don't overlook the other dishes Momofuku has to offer. For example, the dry-aged ribeye large format. Also feeding 3 to 6 people, gets you all the sides to go a long with the steak. The beef dry-aged for at least 50 days, come from the Niman Ranch where the animals are raised without hormone and are antibiotic free. The price for this meal is $225 (not including tip or tax).
Ssäm bar is a walk-in only restaurant unless you are having one of the format meals of the whole rotisserie duck, the bo ssam pork shoulder or the dry aged ribeye.