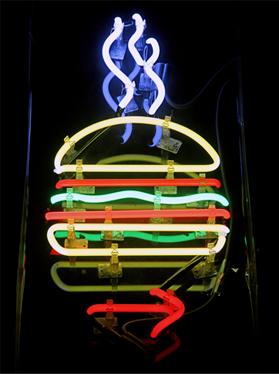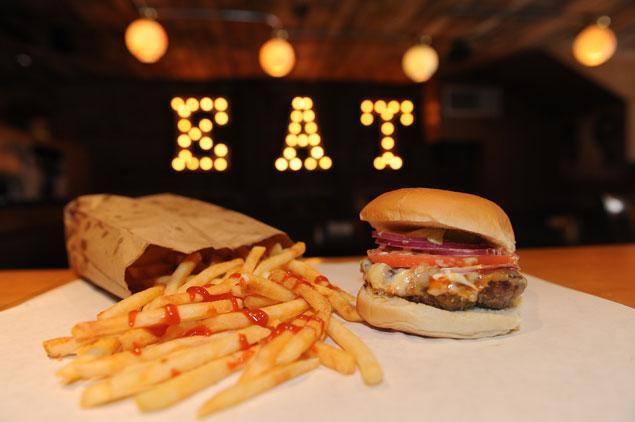 Le Parker Meridian Burger Joint | Best Burger in Midtown NYC...
Le Parker Meridian Burger Joint | Best Burger in Midtown NYC
This affordable and laid back hole-in-the-wall burger joint is nicely hidden inside Le Parker Meridien, an upscale French hotel located in Midtown West Manhattan. It may be tough to spot at first but walking through Le Parker's lobby bar and across the marble floors, Burger Joint is soon visible through its luminescent trademark burger sign once you navigate through the red floor length drapes.
Don't be fooled by the dive atmosphere of graffiti-filled wood paneled walls and diner-style booths - expect long cues of locals and tourists alike for Burger Joint's popular and tasty burgers.
The no fuss menu makes picking your burger of choice painless: burger, cheeseburger or double cheeseburger are your options with sides of lettuce, tomato, onions, sliced pickles, mustard, ketchup or all of the above.
The fries are served separate and arrive at your table hotly served fresh in brown paper bags.
Burger Joint is a fun place to bring friends or colleagues. The tiny, packed spot offers a "to go" service line or you can also be conveniently served at your booth or table. Ordering a burger and fries wouldn't be complete without a milkshake, wine or a pitcher of Samuel Adams beer on tap to pair with your burger of choice.
The Joint's burgers have become so popular that now, one can also find a sister location at Greenwich Village. As if another New York location wasn't enough, Burger Joint has expanded abroad to Dubai and South Korea.