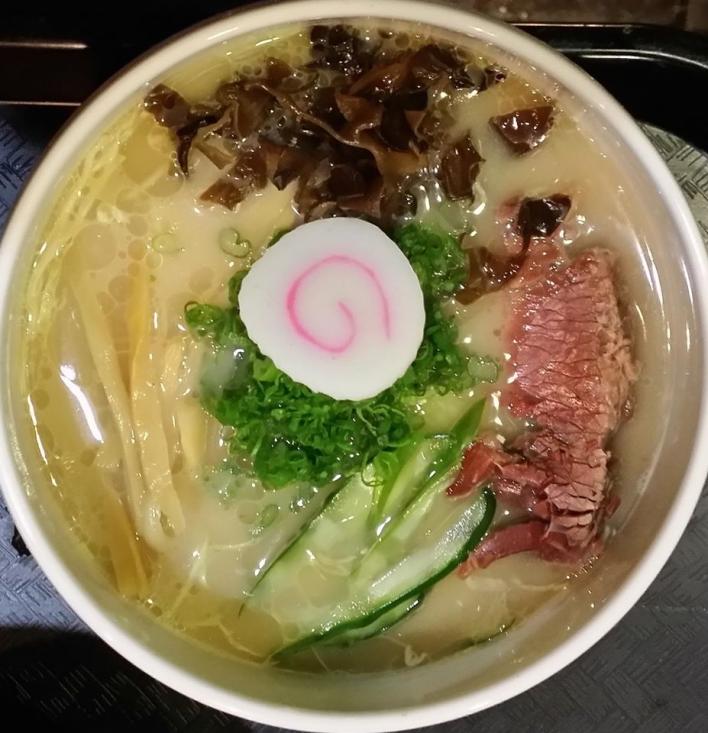 Mu Ramen: East Meets West Noodle House in Long Island City, NYC...
Mu Ramen: East Meets West Noodle House in Long Island City, NYC
If it's not already obvious, noodles with slow simmered soup is the star of the show at Mu Ramen. After creating a frenzy with their acclaimed pop-up ramen shop in Bricktown Bagel, Husband-and-wife team Joshua (Per Se) and Heidy Smookler (Buddakhan) upgraded the ramen experience to their very own brick-and-mortar noodle house in Long Island City.
"Each bowl of ramen broth is extracted from about 24oz of the pork bone marrow" and are diligently concocted to create the fatty, creamy rich soup that clings to the firm noodles. Perfectly drinkable since it has just the right amount of salt but less salty than the traditional.
The menu offers four varieties of ramen including the spicy miso (red miso and pork based soup, topped with chopped pork, roasted corn and chili oil), traditional tonkatsu ( pork based soup topped with delicate chashu pork jowl, kikurage) and the signature namsake Ramen with oxtail and bone marrow based soup, brisket, half sour pickle, cabbage)
Snack on Tebasaki Gyoza ( foie-gras stuffed boneless chicken wings!) and the buttery and out-of-this-delicious U & I (uni) dish with spicy maguro and sushi rice.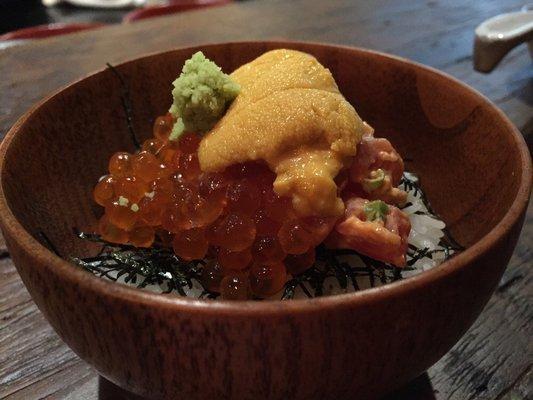 The location has attractive dark wood décor that seats 22 along the counter and a communal table.
Mu Ramen is a cash only restaurant and same-day reservation is available up to four guests.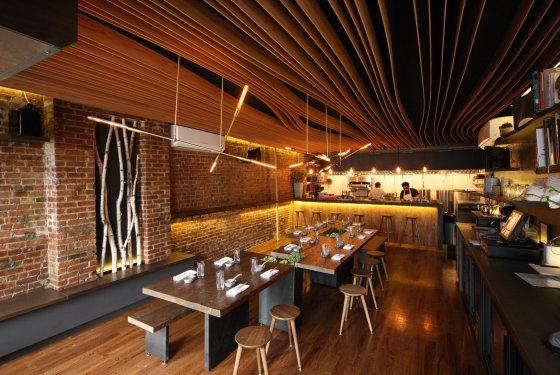 Menu
TREATS
Edamame - $6
charred edamame, chilis, yuzu salt
Shishito Peppers - $9
blistered japanese peppers with lemon aioli
U & I - $15
uni, spicy maguro, ikura, rice, sesame roasted nori
"Okonomiyaki" - $14
scallion pancake, smoked trout, tobiko, shaved bonito, syrup
Tebasaki Gyoza - $14
deep fried chicken wings stuffed with foie and brioche
"MU"ssels -$12
sauteed mussels with spicy Mu dipping sauce
RAMEN
Mu Ramen - $18
oxtail and bone marrow based soup, bisket, half sour pickle, menma, cabbage and scallions
Tonkotsu 2.0 - $15
"tonkotsu" pork based soup topped with chashu pork jowl, kikurage, menma, sesame, and scallions
Spicy Miso - $15
red miso and pork based soup, topped with scallion, chopped pork, menma, corn, sesame and chili oil
Totally Chicken - $15
chicken paitan ramen with confited chicken, roasted nori, menma, scallions and aroma oils
RAMEN TOPPINGS
- roasted corn -$2
- menma (seasoned bamboo) -$2
- Ton Toro (pork jowl) -$4
- onsen tomago - $2
- nitamago (seasoned salt boiled egg) - $2
- kae-dama (extra noodles) - $2
menu items are subject to change without notice
Daily updates may not be reflected, menu is subject to change
photo credit: Mu Ramen