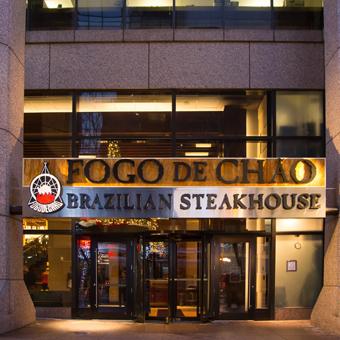 Churrascaria by Brazilian Cowboys in NYC- Fogo de Chao...
Churrascaria by Brazilian Cowboys in NYC- Fogo de Chao
Fogo de Chao is an authentic Brazilian steakhouse / rodizio in which 17 types of meat are prepared gaucho style ( slow roasted in open flame ) and brought to your table by the gaucho chefs.
This technique had been passed down from father to son for generations in Brazil and in 1979 the first Fogo de Chao opened in Porto Alegre. The success soon catapulted FdC into coming to America and eventually opening the doors of the New York location, also its largest.
The combination of excellent customer service makes the dining experience feel like glitzy family gathering, so be prepared to eat a big meal. Many servers are from Brazil, and almost all of them have worked at other locations before. Service is impressive -- it has to be, since the formula relies on each waiter being responsible for his or her meat(s) of the night, from prepping to cooking in the giant behind-the-scenes rotisseries to serving. They do not just deliver and carve food, they oversee it from seasoning to delivery at the optimum time.