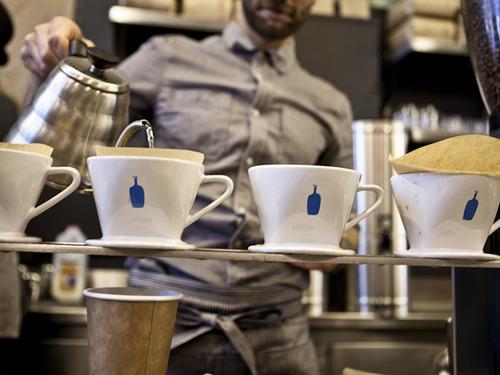 Blue Bottle Coffee...
Blue Bottle Coffee
Multiple Locations
Taking fresh coffee to the next level. Coffee here is simply GOOD. Beans are roasted onsite, always served less than 48 hours out of the roaster and yes, each cup is "drip-to-order". On a warm day, try the New Orleans iced coffee. They make this drink with coffee that is cold brewed for 18 hours and infused with roasted chicory and organic cane sugar. The result is a coffee that is slightly sweet with a hint of spice flavor. The space tends to get crowded but who cares, you go there for the coffee.
Brooklyn:
160 Berry St.
Brooklyn, NY 11249
The High Line:
10th Ave and West 16th Street
New York, NY 10014
Chelsea:
450 W. 15th St.
New York, NY 10014
Midtown:
1 Rockefeller Plaza
Concourse Level, Suite D
New York, NY 10020
photo credit: Brent Herrig