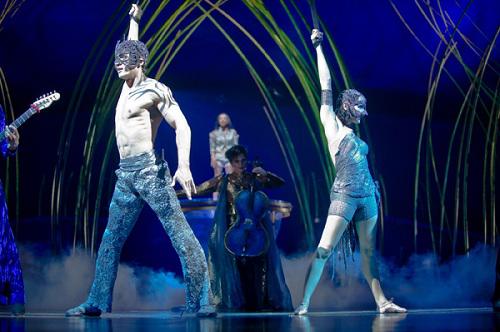 Cirque Du Soleil: Amaluna...
Cirque Du Soleil: Amaluna
Whether you have been to a Cirque Du Soleil show before or this is your first, you will be in for many new surprises. Amaluna, the newest addition to the greatest traveling circus is setting their 2014 NYC performances at Flushing, Citi Field aka Mets stadium from March 21st - April 13th. The show is set on an island that's run by women until a group of young men show up. A love story unfolds as a young couple encounter multiple trials and tribulations.
Cirque Du Soleil - Amaluna
Amaluna invites the audience to a mysterious island governed by Goddesses and guided by the cycles of the moon.

Their queen, Prospera, directs her daughter's coming-of-age ceremony in a rite that honours femininity, renewal, rebirth and balance which marks the passing of these insights and values from one generation to the next.

In the wake of a storm caused by Prospera, a group of young men lands on the island, triggering an epic, emotional story of love between Prospera's daughter and a brave young suitor. But theirs is a love that will be put to the test. The couple must face numerous demanding trials and overcome daunting setbacks before they can achieve mutual trust, faith and harmony.
Fri, March 21st 2014
to
Sun, May 18th 2014