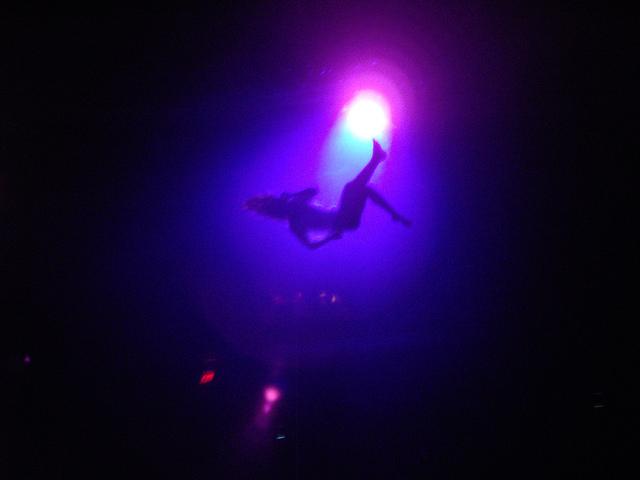 Wayra: Fuerza Bruta...
Wayra: Fuerza Bruta
Fuerza Bruta, presents his new material and revisits previous material, giving a new dimension and nature. What no one ever saw, plus all the power of previous shows, and accumulated experience over Fuerza Bruta trips around the world.

The past, present and future, all in a show full of freedom and explosive power. Creating a unique ritual every night, escapes and breaks away far from the conventions.
Broadway.com

Fuerza Bruta is a full-on 360 degree experience. The space looks more like a club than a theater. There's not even a stage, per se, as the action happens around, above and among you. The audience not only stands for the entirety of the performance, but everyone's moved (sometimes pushed) around en masse to make way for raised platforms and other changing scenery. Cast members, most of whom are dripping wet, freely mingle with the crowd and might give you a hug and/or encourage you to join in their tribal dancing and shouting. It all ends with a techno dance party, and the DJ's got a hose! So stand to the sides if your post-theater plans involve reservations at a fancy restaurant.

Is Fuerza Bruta Good for Kids?
It might be overwhelming for the little ones, since there's a lot of darkness, loud music and misty, fog-like air. The show also begins with a central character being shot numerous times, a scene complete with several loud bangs and plenty of blood packets. Technically, there's no nudity, yet one of the shows most eye-popping segments–in which the performers cavort in a swimming pool that's suspended above the audience, can make for from some unexpected sights. This is a better bet for teens and up.