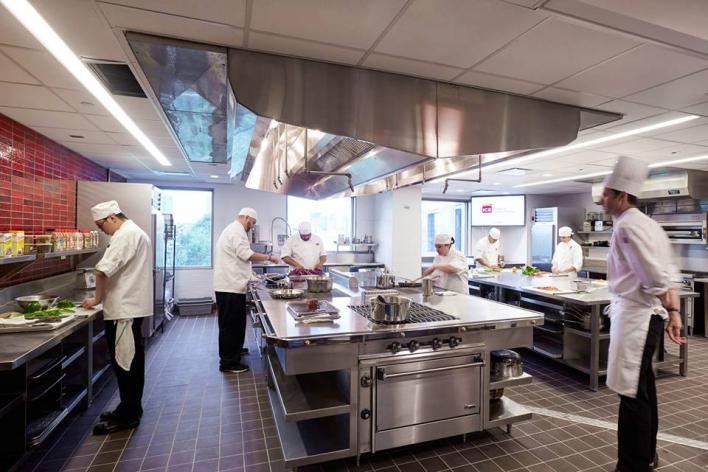 The Best NYC Cooking School - Institute of Culinary Education...
The Best NYC Cooking School - Institute of Culinary Education
New Yorkers looking to master the culinary arts need look no further than the Institute of Culinary Education. Established in 1975 by legendary chef Peter Kump, ICE has earned its reputation as New York City's top cooking school.
In April 2015, ICE moved to a stunning 74,000 square foot state-of-the-art facility in Brookfield Place. With unparalleled views of the Hudson River and World Trade Center, the school's sleek modern design houses:
- 12 Fully-Equipped Teaching Kitchens
- 6 Lecture Halls Outfitted with Cutting-Edge AV Equipment
- Student Lounge with Floor-to-Ceiling Windows
- Brand New Culinary Library
ICE offers four highly-regarded accredited career training programs in Culinary Arts, Culinary Management, Pastry & Baking, and Hospitality Management. Taught by dedicated chef-instructors, ICE's comprehensive 8-13 month curriculum prepares students for success in the culinary industry.
The school also operates the largest recreational cooking, baking, and wine education program in the United States. From Momofuku Milk Bar classes to food and wine pairing, ICE has something for everyone.
State-of-the-Art Equipment
ICE's teaching kitchens feature top-of-the-line equipment including:
- Gas, French Top, and Induction Burners
- Steam-Injected Triple Deck Ovens
- Specialty Chocolate Equipment
- High Volume Dough Sheeters
- Blast Freezers
- Modernist Cooking Appliances
- Specialty Ovens like Tandoor, Plancha, and Stone Hearth
The school's showpiece kitchen is built around a gorgeous Jade island, ideal for teaching brigade-style cooking.
Accolades
ICE's excellence has been recognized by the culinary community:
- 2002, 2003, 2006 & 2008 International Association of Culinary Professionals Awards of Excellence
- ICE alumni have garnered honors including James Beard Awards and designation as Food & Wine Best New Chefs
- Top ranking on lists of the best culinary schools in the US
In New York City, there is simply no better place to launch your culinary career than the Institute of Culinary Education. Contact ICE today to schedule a tour and unlock your culinary potential.