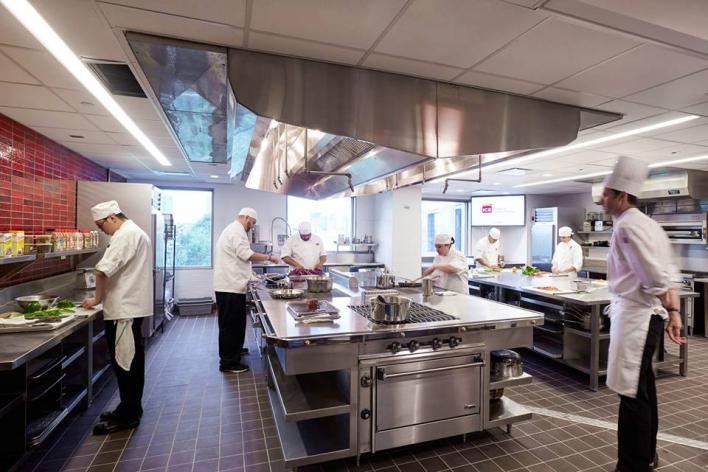 Institute of Culinary Education NYC - Award Winning Cooking School...
Institute of Culinary Education NYC - Award Winning Cooking School
New York City's oldest and most well known culinary school is now its' newest and most innovative. In April 2015, ICE moved from its longtime place in Flatiron Centre to 225 Liberty Street in Brookfield location. The new Lower Manhattan environment stretches across 74,000 square feet, having the Hudson River outlook to the West as well as the World Trade Center views to the East. The new Culinary School is equipped with the most up-to-date high-tech equipment such as, an indoor hydroponic herb and vegetable farm.
This brand new facility comprises of:
Twelve teaching kitchens
Six lecture spaces extended over a single expansive floor,
Four accredited career training programs,
Professional advancement opportunities,
Recreational cooking workshops and special events,
A student lounge room with floor-to-ceiling windows and
A brand new culinary library - all just steps from Brookfield's riverfront park with spaces for dining, meetings and also relaxation.
Established by Peter Kump in 1975. The Institute of Culinary Education (ICE) offers well-regarded 8 to 13-month professional training programs in Culinary Arts, Culinary Management, Pastry & Baking, as well as Hospitality Management.
ICE is widely acknowledged as the ultimate pathway to get started or else continue in the culinary profession, with highly specialize and committed chef-instructors, a solid track record in job placements, a comprehensive international curriculum in addition to providing a clear entrepreneurial focus.
The institute also operates the largest program of practical recreational cooking, baking courses and wine education in the United States.
The Latest State-of-the-Art Equipment at ICE Brookfield Place:
a. Cooking classrooms furnished with gas, French top and induction burners, featuring the complete selection of most popular cooking methods around the world.
b. Pastry kitchens equipped with steam-injected triple deck ovens, Hobart mixers, blast freezers, high volume dough sheeters, specialty chocolate equipment, and much more.
c. The Culinary Technology Laboratory also showcasing modernist cooking appliances, in addition to rotisserie, specialty tandoor, plancha and also stone hearth ovens.
d. A featured kitchen complete with a Jade island selections – well suited for teaching "brigade" style cooking
Institute of Culinary Education was a finalist and also winner of the International Association of Culinary Professionals' for the year 2002, 2003, 2006, and 2008 Awards of Excellence for Culinary Schools. The ICE students as well as the Alumni are more often nominated for or get top industry honors for instance, James Beard Awards, Food & Wine's Best New Chefs in America, and Dessert Professionals' Top Ten Pastry Chefs. ICE is rated as one of the Best Culinary Schools on the List.
photo credit: ICE