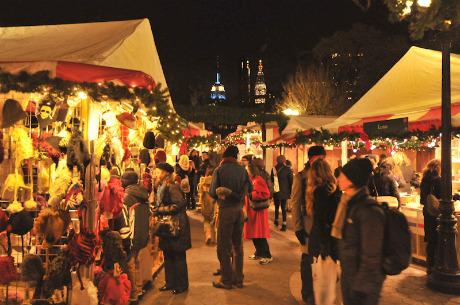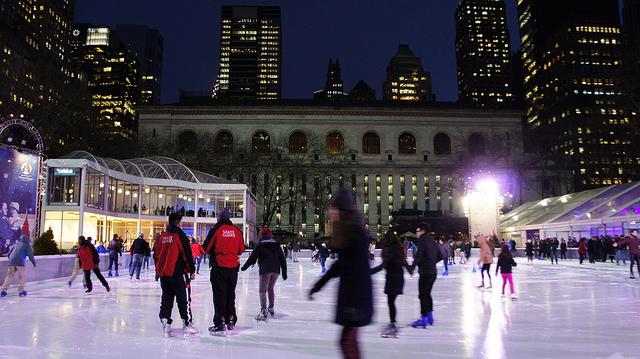 Free Skating, Food & Holiday Shopping at Bryant Park Winter Village...
Free Skating, Food & Holiday Shopping at Bryant Park Winter Village
A wonderful place to spend your free time when you are in the area, bring out-of-towner guests or enjoy some skating with friends and family. A visit here will lift your holiday and winter spirit.
Holiday Shops Tasting Tour
4:30pm – 6:00pm every tuesdays until 11/18 | Skate Deck, just east of the Rink

Tasting Tuesdays Tour at the Bank of America Winter Village Holiday Shops!

Participants will receive a handy map and embark on a self-guided tour for nibbles and sips throughout the park. All participants are eligible to receive a gift certificate at the end of their tour, while supplies last.

Please sign up for your wristband and map at the NW corner of the park.

Limit one gift certificate per person, maximum of two gift certificates per family.
Skating Rink
(October 30, 2015 – March 6, 2016)
Monday - Sunday: 8am – 10pm

The Rink is the centerpiece of Bank of America Winter Village at Bryant Park. The 170' x 100' rink features free admission ice skating, if you doo not have your own skates - high quality rental skates are available. The Rink also features skating shows, special events, and activities.

Facilities

Skate Sharpening - Offered in the Skating Pavilion.
Skate Lessons - Individual and group lessons can be arranged for all ages and levels.
Lockers and Bag Check - Inside the Skating Pavilion, lockers are free of charge, with locks available for purchase. Bag check is also available for a fee.
Parka Lounge - Custom packages available for children's birthday parties and special occasions. To reserve call 212-661-6640
Ice Bites - Take a skate break with a wide selection of comfort foods, hot and cold drinks, and delicious treats.
Holiday Shops
(October 30, 2015 – January 3, 2016)

The Holiday Shops include more than 125 boutique-like shops offering exquisite gift ideas from distinctive apparel to jewelry, decorative goods, local foods, and much more. There's something for everyone – adults, kids, and even pets.
This European inspired open-air market features artisans from around the world. Located along Bryant Park's allées and terraces, the Holiday Shops are housed in custom-designed, "jewel box" kiosks.
Click here for full list of shops and vendors.
Monday - Friday: 11am – 8pm
Saturday: 10am – 9pm
Sunday: 10am – 6pm
Celsius
(October 30, 2015 – March 6, 2016)

Dine rinkside at this two-story, glass enclosed restaurant situated at the northeast corner of The Rink Grab a seat under the heat lamps or enjoy panoramic views of the rink from the second floor.

Monday - Friday: 12pm – 10pm
Saturday & Sunday: 11am – 10pm
'witchcraft'
Founded by New York chef Tom Colicchio of craft, craftbar and Colicchio & Sons, 'wichcraft has received numerous accolades for its inventive menu and dedication to using high quality, seasonal ingredients. New York Magazine has named 'wichcraft one of New York's "best cheap eats" two years in a row.
photo credit: Yi Choe
Mon, October 30th 2017
to
Tue, March 06th 2018