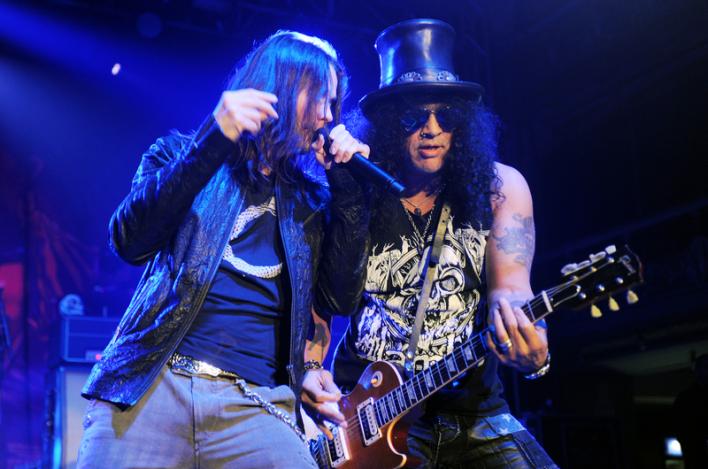 Slash NYC Concert Feat. Myles Kennedy & The Conspirators...
Slash NYC Concert Feat. Myles Kennedy & The Conspirators
Legendary guitarist Slash (of Guns & Roses fame), featuring Myles Kennedy and The Conspirators, continues the World on Fire tour for legions of rocker fans.
Slash redefined mastery of the guitar with his G & R riffs, and continues this trend as he creates solo albums featuring new rock music with bluesy elements to legions of fans.
Along with Myles Kennedy and the Conspirators expect the group to deliver an energy filled concert experience, and if previous performances is any indication, this concert won't disappoint. They "rock the house!"
The group settled in at New Zealand Feb. 18) kicking off a string of "down under" dates then off to Santiago, Chile on March 4 to kick off a batch of South American shows. Making their way north into Mexico in late March, then catch a breather before starting a U.S. trek in late April. The group makes a stop in NYC playing May 7th at Terminal 5, Midtown West.
"The World on Fire tour has been nothing short of awesome," says Slash of his experience so far. "I can't wait to jump on these U.S. festivals in May, as well as mix in our headlining show for a bunch of dates along the way."
And just in case you were hoping for a reunion with Axl Rose and his Guns N' Roses bandmates, Slash hasn't spoken with Axl since 1996…a far cry from the days of the early 90s when they rocked the world.
In the meantime, a slice of guitar magic for you…this riff was actually voted by a top guitar magazine as the Number One riff of all time!