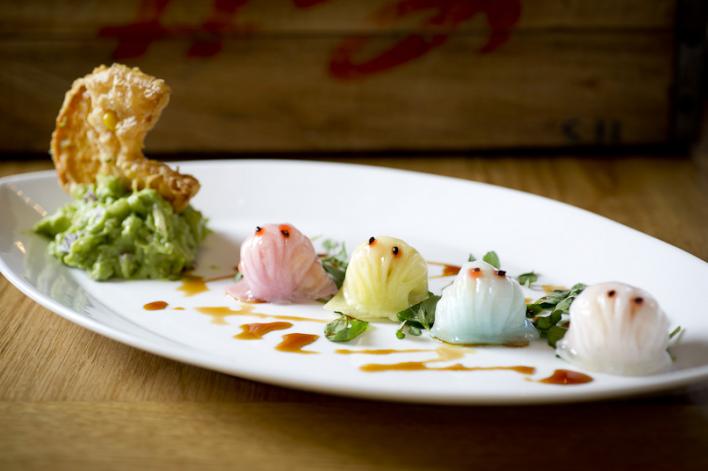 Modern Dim Sum and Pac-Man Dumplings: RedFarm NYC...
Modern Dim Sum and Pac-Man Dumplings: RedFarm NYC
A "farm style" Chinese restaurant, RedFarm is an attempt to modernize the traditional East Asian cuisine and make a mark on the map for more casual generation of urban diners.
Massive archaic menus has been reduced to an efficient page a-la bistro-style, master Hong Kong dim sum chef Joe Ng, creates riffs on traditional dim sum and other Asian inflected dishes using locally-sourced, high quality ingredients and green market produce.
The appetizers and the dim sums are the real draw here, superbly cooked and whimsically plated. Such as the "Pac Man dumplings" or the Mushroom spring rolls. Others includes the Black Truffle & Chicken Soup dumpling, large fist-sized dumpling containing rich broth and truffle on top and Katz's Pastrami Egg Roll - it's as good as it sounds.
The brightly lit industrial chic space is built with wooden rafters and banquettes, and decorated here and there with familiar casual barnyard touches like wooden packing crates, dangling candles, and the kinds of flowerpots you see hanging in the courtyard homes of old Chinese houses..
RedFarm Locations
- W. Village: 529 Hudson St. (near Charles St.)
- UWS: 2170 Broadway (near 77th)