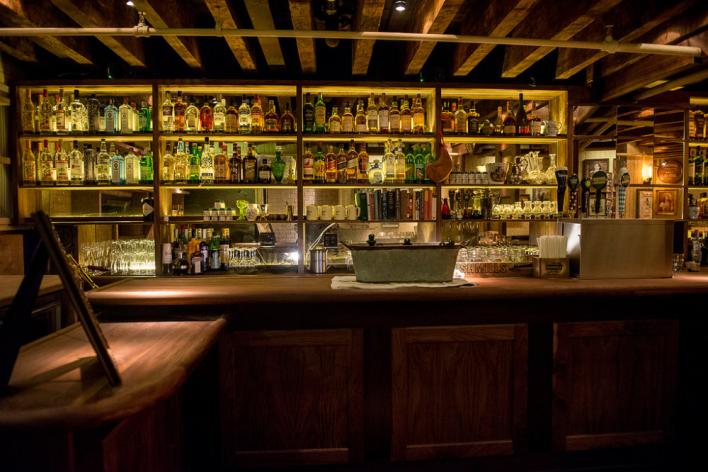 Victorian Gentleman's Pub: The Dead Rabbit Grog & Grocery...
Victorian Gentleman's Pub: The Dead Rabbit Grog & Grocery
Located at the heart of the historic New Amsterdam in the southern tip of Manhattan, The Dead Rabbit G&G is obsessed on embracing the Victorian gentleman's pub of the 19th century. From it's impressively history perfect cocktail menus, the rare selections of Irish whiskeys, and the new-school take on Ole-English pub bites. This award-winning bi-level parlor has perfected the "advance" art of Old-New York and Traditional Celtic hospitality.
Esquire:

The Dead Rabbit is not low-key; it's insane — so geeky and so history-obsessed that by all rights it should be an impossible, insufferable place to drink. Instead it's glorious. Sure, there's a wait to get into the elegant Parlor upstairs, a picture-perfect gentleman's bar with bartenders who are quick-draw masters of a vast menu of delightful interpretations of 19th-century cocktails, cups, punches, juleps, sangarees, toddies, and just about every other kind of drink known to Victorian mixology. But the place you wait is the Taproom downstairs, which, though narrow and thus often crowded, is nonetheless a fine bar in its own right, a place to get a perfect pint of Guinness, a shot of one of the many rare Irish whiskeys stocked, or even a glass of punch like you get upstairs. And there are oysters. The New York Herald would have loved the place.
Zagat:

Adding cred to the Financial District cocktail scene, this handsome new arrival specializes in Irish whiskey and 19th-century drinks, and it's already become a hit with liquor industry insiders. The bi-level space features an informal ground-floor taproom, while the upstairs serves a wide-ranging menu of sophisticated cocktails, punches and affordable pub bites (Welsh rabbit, ploughman's lunch) in a throwback parlor atmosphere that, with its wood-beamed ceilings and old-time portraits on the walls, invokes the 1800s. If you want to get into serious drink geekery, the second-floor room is where it's at.