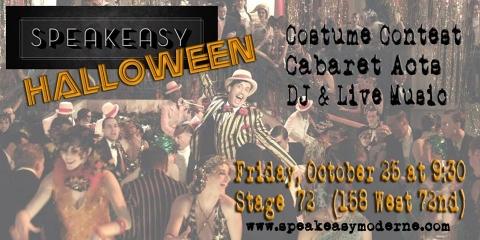 Speakeasy Moderne: Halloween DANCE PARTY...
Speakeasy Moderne: Halloween DANCE PARTY
Costume Party "Come ONE come ALL" - Friday, October 25th at 9:30PM
STAGE 72 / THE TRIAD NYC
158 WEST 72ND STREET
NEW YORK, NY 10023
Official Hank" Stampfl is hosting his annual Halloween Extravaganza with Clayton Whitman, Kimberly Schafer, Dex Phillip, Dina Fanai, Peter Martin, and Rick Newman at the world famous Triad Theatre - Stage 72
- SPEAKEASY HALLOWEEN -
Cabaret Acts, Burlesque Acts, DJ, Dancing, Costume Contest with Prizes, and Full Bar.
New York Cities Hottest Halloween Speakeasy Party! With Broadway Singers, World Class Dancers, Opera Singers, Live Music, and Burlesque Star Kat Pussnboots. Choreography by Kimberly Schafer. Makeup design by Dex Phillip of Dex New York Cosmetics.
Speakeasy Moderne Halloween Event: STAGE 72 (158 West 72nd Street) Friday, October 25 at 9:30pm.
ROCKSTAR Admission: Premium Tickets $75
Onstage seat to the COSTUME PARTY. Drink all the BUBBLES you can while watch the performers up close...
VIP Admission: $50
VIP access allows you to drink all the BUBBLES you can: Marquis De La Tour Prosecco at the COSTUME PARTY!
General Admission: $25
Allow you access. 2 Drink Minimum suggested - Cash Only.
Tickets can be purchased online at www.Stage72.com or www.SpeakeasyModerne.com.
Reviews
http://www.timeout.com/newyork/clubs/speakeasy-moderne-slide-show
www.askmen.com/new_york_city/speakeasy-moderne.html
http://www.womanaroundtown.com/sections/playing-around/speakeasy-moderne
http://sociallysuperlative.com/2013/04/02/speakeasy-moderne-old-school-charm-with-modern-sensibility/
http://perezhilton.com/tag/speakeasy_moderne/
http://www.orangejuiceandbiscuits.com/2013/07/a-night-to-remember-speakeasy-moderne.html