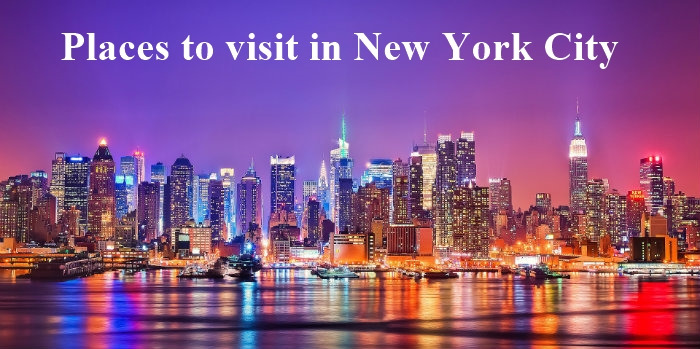 So, we are shortlisting out favorite places in NYC.
If you would like to tell us about your favorite place, you can add it in the comments and let us and readers know the reason for the selection.
For the post, here is our little list that should be on your mind if you are visiting NYC for the first time.
1. The Village: Although it is not the most interesting place in NYC, we would like to start with it because it has some of the rarely visited areas (when we talk about tourists) but should be on their must-visit list. Old Beatnik stomping grounds are a place you should not miss. Don't miss it because if you do, you will regret your decision once you are out of the zone. The Village even gives you a typical local feel with economical restaurants and shops that offer local items. So, if you are planning to take home a souvenir, this should be a place you should start with.
2. Empire State Building: It is a 102-story skyscraper that is located in NYC and has a roof height 1,250 feet. Today, Empire State Building is the world's tallest building, and it was even the world's tallest building till 1971, before World Trade Center's North Tower was built in 1971. Unfortunately, the September 11 attacks in 2011 destroyed the said building, and thus, Empire State Building managed to get back its status of the world's tallest building. Apart from this, this building is thought of even as an American cultural icon. This building will not only impress you from the exterior but will even catch hold of your imagination from the interior. So, if you are willing to be impressed by this excellent creation, you should go ahead and add this place to your must-visit list so that you do not miss out the building when on your way to NYC.
3. Broadway: Broadway is a dream starter for many people, especially singers. Singers know that their talent will be recognized here, and that can opt for different ways in which their talent will be appreciated. This will even give them an opportunity to take yourself to the next level. So, if you are a singer, you can simply think of visiting this place and grabbing an opportunity if you have the chance of grabbing it. For others, this is a place where you can simply sit back and enjoy the theater's experience. There is not just one theater, but some them. So, enjoy your time in Broadway because it is possible that you will see a future celebrity coming out of those theaters. Having said that, let's not even think that Broadway will be an economical place for you. You should carry enough money to spend it on amazing events in the Broadway.
Note: You can even get discounted tickets for most of the shows, and you can find these discounted tickets in the middle of Times Square. It will not be a bad idea to visit this section first and know which shows are being offered for a discount.
4. Central Park: One should not think that this place if for the kids only. If you are moving to Manhattan, Central Park is a place that should not be missed. This is not because it covers about 800 acres of the place and is green and beautiful, but because there are so many options available for you. You can enjoy your time being a part of the popular outdoor concerts or simply enjoy a romantic walk on the paved areas and explore the place slowly. Central Park also has a zoo where you'll find polar bears too. If you want to spend lazy hours, take a boat around the lake and enjoy your time in there.
5. Times Square: Times Square is like a rich man's pass time area. You will find large billboards advertising things you may or may not want, but the fact that they are here there everywhere, you will feel the need to spend some time in the malls looking for the brands promoted on the large billboards. For shoppers, this may not be a paradise, but it is a paradise for those who want to live and feel like a rich man. So, Times Square is a place you should visit at least once in your lifetime.
While moving around in New York City, you should think about saving money too. As a traveler, you might have booked your hotel rooms via hotel room booking sites. However, you should know that there are ways in which you can save money while booking a room. Yes, the traditional method is to look for deals available at Hotels site and book a room instantly because some good deals are about to expire soon. However, if you do not book in a hurry, you will notice that you have the opportunity to save even more because of the promo codes that can be applied at Hotels site before you complete your booking. Hotels site might trick you by popping a message that the deals offers at Hotels site are the best. However, get out of the zone and understand that promo codes that can be clubbed with these amazing deals will only be beneficial for you. So, go ahead and make sure that you look for promo codes and get the best of the best deals for your hotel bookings at Hotels.com. Hotels.com promo code are available from many different sources. Look for them and enjoy amazing deals.
There are so many other places one can visit in New York City. However, we have shortlisted only four of the best places to visit in New York City.
Apart from these five options, which option tops your list of places to be visited in New York City?